I apologize for the lack of blog posts over the past few weeks. I know this isn't a great excuse, but life has just been a little hectic lately. In a good way!
As you know, I started this blog because I love Detroit and wanted to provide inspiration for brides and grooms to pursue socially conscious choices in their wedding planning and to highlight responsible vendors based in the city. Some of you know that I am not a wedding planner and was not a do-it-yourself bride. I got into blogging because I care about our city and have a social justice orientation to things

You care about the future of Detroit as well. Tuesday's primary election can be a historic one and your vote can help make the difference. Yes, the bankruptcy might happen. Yes, the emergency manager is in place. In my view, resident voices are more important now than ever before. In addition to the mayoral race, we will be voting for city council members by district for the first time in 95 years. This is our opportunity to elect candidates that will best represent the values, concerns, and visions of our neighborhood residents. The new city council will help shape what Detroit's future looks like and set the bar for what a district-based city council can achieve.
Click here to read the League of Women Voters Detroit voter guide to learn about the candidates and make your decision! Then go vote on Tuesday, August 6.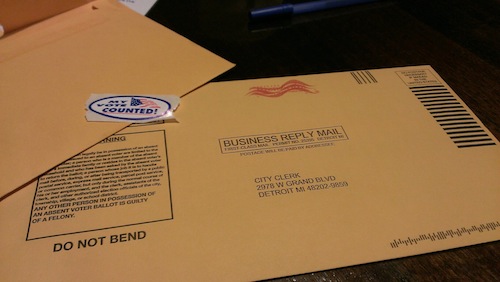 I filled out my absentee ballot last night and am excited to turn it in today. Will you vote on Tuesday?
Polls are open from 7 a.m. to 8 p.m. To check out your sample ballot and find your polling location, click here. Detroiters across the city will be voting on Tuesday, August 6. Will you?
P.S. Congratulations to Melissa & Chris who were recently married in Detroit!! Check out their Engaged in the D guest blog posts here and here.