Today's Engaged in the D blog post is by Christopher Holt, who is engaged to Melissa Damaschke. Check out Part One here and read about their engagement story here.
Jewelry is delicate and precious. However, I've come to admire the brute force that goes into its making. It's a bit like childbirth: there's grunting, careful monitoring, blood, placenta, the force of contractions and labor, the smacking of a newborn bum, crying and all that, but in the end you have this precious delicate life. Minus the blood and a few other things there is an element of brutality in making jewelry.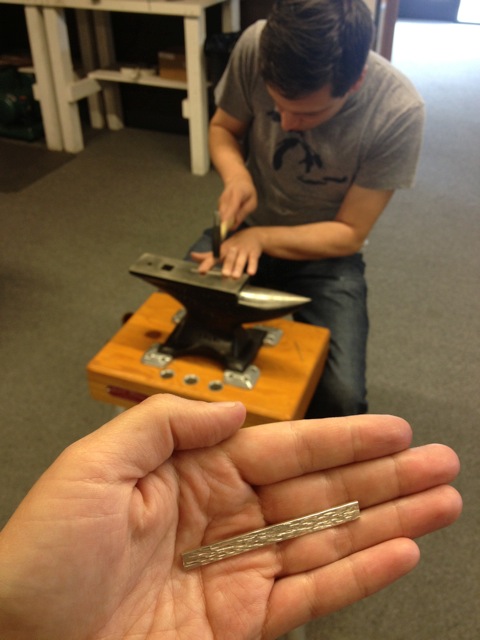 How do you think the ring gets that nice round shape? You hammer the sucker. You hammer it into that ring-like shape and hammer the ends as close together as possible. Did they get out of line with each other? Put the metal in the vice and tap the sides 'till they're even with each other. Then repeat. Then you solder the ends together. Now this piece of metal that once looked like, well just a piece of tiny metal, is starting to look more and more like an actual ring. I've seen ultrasound images of fetuses in the womb and thought, "Ok. Where the hell is the baby?"  Not until later does the freakish cluster of cells become recognizably human.  Up to this point, one might ask, "Ok. Where the hell is the ring?"
We  now arrive at the point where Melissa took my ring-fetus and hammered it into a ring-baby.
Our Mistress of Metallurgy introduced us to this thick metal rod that was tapered to a point. It was a little shorter than my forearm. Using her demonstration ring, she slid it 'round the tapered the end and wedged it a few inches onto the rod.  Ring sizes were engraved up and down this tool. She demonstrated what we had to do and Melissa was first.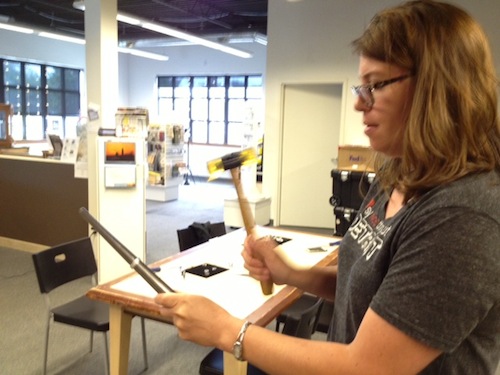 With the grace of a ballet dancer, the muscle of a valkyrie, and the focus of a laser-beam, Melissa hammered my ring into existence. She slid it off the rod and I slid it onto my finger. I shook my hand wildly to see if it would fall off. It flew across the store. This act was repeated about four times before the ring fit my finger comfortably.
Upon my turn, I raised the tool with my left hand and the hammer with my right.  Like the Greek god Hephaestus, I brought my hammer down upon the ring not once, not twice, but several times. Many, many times in fact.
Repeatedly.
Until finally, the gold and silver that were once divorced, were once again united in a perfect, perpetual circle, soldered together by the suave hunk that is marrying Melissa Damaschke.
We spent the next 10-20 minutes sanding and polishing the rings giving them a slightly grey finish. (Neither of us wanted anything too shiny or glossy).  Julie permitted us to use the photo set-up she has to take the picture you see here.  When all was said and done we were there for about five hours with a break for lunch.  We can't thank Julie Sanford of Studio JSD enough for her patient guidance, talent, and encouragement.  If there are any couples considering doing such an activity together for their rings, we highly recommend doing it.
And we didn't have to forge our rings in Mordor.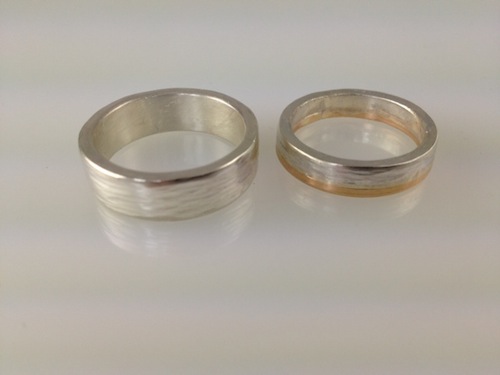 Readers: What do you think of the idea of making rings for one another as an engaged couple? How would you design your own unique ring?