I am excited to announce that LoveintheD has four new guest bloggers! All of them are engaged people planning their weddings in Detroit. Katherine will be one of the guest bloggers, Roland will be another, and Chris and Melissa are planning to write some posts together as a team!
Are you as excited as I am to hear what they have to say about their wedding planning experience? I anticipate that you, the LoveintheD readers, will get to read all about making weddings as close to zero waste as possible, learning how to make a wedding dress, and ways to keep costs down and support local vendors.
Meet the "Engaged in the D" guest bloggers for Loveinthe D.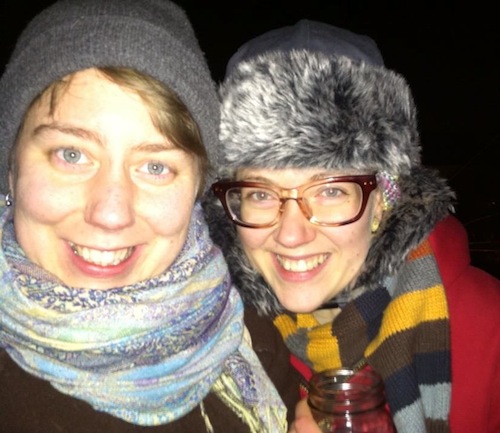 Katherine & Chelsea
Wedding date: Friday, September 6, 2013
Katherine tells the engagement story:
It was the end of December, the last full moon of the year. Shortly after Chelsea and I started dating, we started celebrating full moons together as often as possible. In the summer, sometimes we'd pack a picnic. In the colder months, typically we'd take a walk. So, two days after Christmas, I came home from visiting my family in Lansing, and I asked her if she would like to take a walk with me. The sky was perfectly clear. My heart was about to fly out of my chest. She said that sounded nice.
I mulled some wine and we set out. I am not very good at keeping secrets or surprises, especially with people I am close to, because I want to tell them everything. I was so certain I would give my purposes away at any moment, but somehow it didn't happen. On the walk we talked about past full moons, about how we've grown together, about how funny it now seems that we were once shy and nervous around one and other all the time, and about the idea of building a future on this foundation of love and support. I steered us towards one of my favorite pedestrian bridges, so we could look at the moon. Then I took a candle out of my pocket, only to discover that my lighter was broken.
So I had to read my speech by moonlight.
I won't reproduce it here or anywhere, but it was about how being with her has made me a better person, and I want to keep growing with her. She smiled, just thinking I was being romantic and sweet, until the end. At the end, I offered to spend all of my days with her, and asked for the favor of getting to share hers. I watched her hands creep up over her face. And it was at that romantic moment that I realized, I hadn't got out the ring yet, and in all of my planning, I'd never decided if I was going to kneel! The ring is beautiful (plug for Emily Wiser, who made the ring and is making my engagement ring, and our wedding bands as well) and also ethical and personal. It's all recycled gold, and the stone is a small moonstone. One of the old legends about moonstones is that, if you give one to your lover on the full moon, it will strengthen your bond and make your relationship more enduring.
She said yes. We're getting married on September Sixth, Two Thousand Thirteen.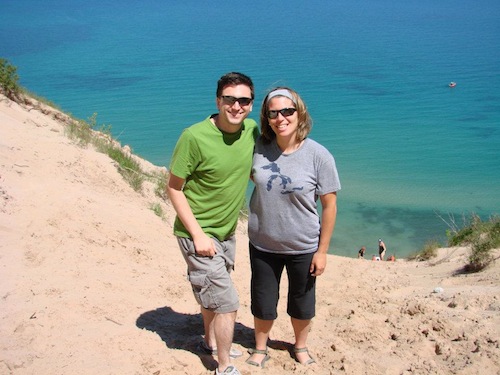 Chris & Melissa
Wedding date: Saturday, July 20, 2013 at the Detroit Yacht Club 
Chris tells the engagement story:
I didn't propose to Melissa. We arrived at a consensus. Melissa Damaschke, enivronmentalist, feminist, progressive, and protector of the Great Lakes, did not want to be "asked" to be a man's wife. I knew this and other things from the many discussions we've had on the subject for the last six years. However, the term "consensus" was a recent development. Nonetheless, in October 2012, recognizing a marriage would be somewhere in our near future, we fell into a life of Sinful Living with all its temptations: sharing an address, splitting bills, and passive/aggresively leaving dishes in the sink. I don't make enough money as a piano teacher and part-time art teacher to have surprised her with a really nice diamond ring.   This is acceptable, however, as Melissa didn't want a diamond given the complicated and violent world of the diamond trade. Infact, lucky me, she's not really into jewelry.
Saturday morning, November 3rd 2012, Melissa and I were running errands one of which was a stop at SOCCRA (the recycling center in Troy/Royal Oak on Coolidge). After we dumped a few boxes of paper, plastic, and glass we returned to the car. I turned down the volume of the stereo and reached for her hands. I said, "I'd like to put forth a vote on us getting married." She laughed and said, "Seriously, Holt? You're doing this here?!" I replied in the affirmative. "Where else does one reach a consensus with Melissa Damaschke?"  She laughed again and said yes. No ring, just a simple question put forth to the vote.  When we got home, I pulled-out a twist tie.  Wrapping it around her finger I said, "This is what you get for marrying a poor musician. Don't say I didn't warn you."
Now, we're looking forward to our Green Detroit wedding!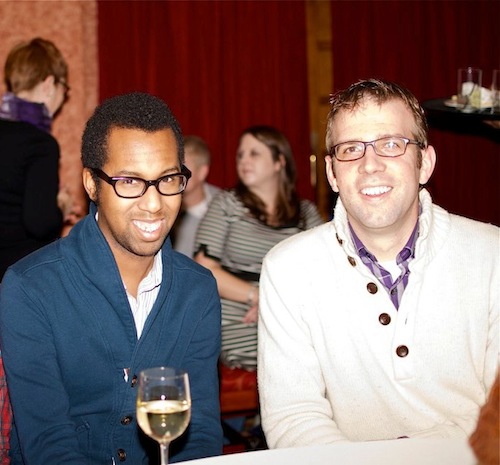 Roland and Matthew
Engagement story coming soon!
Engaged readers: What are the highlights from your wedding planning process thus far?