This week's Engaged in the D guest post is by Christopher Holt, who is engaged to Melissa Damaschke. Read about their engagement story here.
Part One
Melissa doesn't have an engagement ring. Not because I'm a cheap jerk but because 1) She doesn't wear much jewelry in the first place and 2) She takes issue with the diamond industry.
So, instead of buying wedding bands, we thought it'd be more meaningful and rewarding to make each other's rings. Now, by "make" I don't mean "have someone make it for us." Rather, I make her wedding band and she makes mine. Melissa was quick to research our options and found the only place in Michigan that offers couples the opportunity to do just, which is Studio JSD located in Grand Haven.  Julie Sanford, owner of Studio JSD, was more than accommodating to our purpose. In fact, we were able to have the entire studio and her attention all to ourselves. Julie makes all kinds of jewelry and we can't recommend her and her artwork enough. I shall call her our Mistress of Metallurgy.
Melissa's ring carries a second layer of meaning. Her parents divorced when she was 13 thereby rendering their wedding rings moot. However, they had the forethought (or respect) to keep them. Melissa's mom is remarried.  After her dad died a few years ago, Melissa took to wearing his wedding ring on occasion. While it's not really her style, it still holds sentiment. Despite having each of her parents' defunct wedding rings, she didn't know what to do with them.  It wasn't until the night before we left for Grand Haven that it occurred to her that she should melt them down and recast them into her own wedding ring.  She got the OK from her mom and brother (out of respect for their feelings) and the decision was made.
My ring would be cast from new material. Melissa would make mine and I would make hers. We agreed that the other would approve of the ring each step of the way so there would be no surprises.
Our Mistress of Metallurgy guided us step-by-step through the entire process. Given the fact that Melissa's ring was to come from two existing pieces of jewelry, my tasks required a little more time, so the three of us started on the rings together. I admit I was uneasy about sawing the diamond off of my future mother-in-law's gold wedding ring. However, as I was doing that, Melissa was busy removing/tapping/bending/hammering out the small stones that were epoxied into her dad's silver ring. This put things into perspective and I proceeded with confidence.
Hammers and saws are fun but blow-torches are more fun.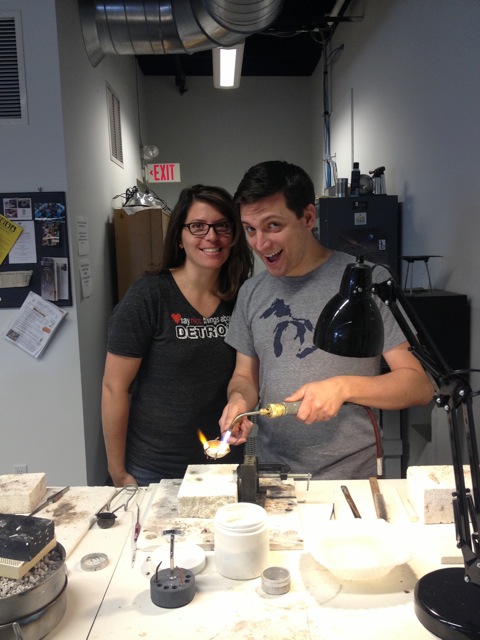 We took our turns melting the other's metals into liquid form inside a crucible.  Melting-down metals is nothing new of course but if you have never altered the physical properties of a piece of metal before, you're missing out.  Sure, there'd be soldering involved later on, but in this case we take something recognizable, admired, worn, and cherished, and reduce it to a scalding hot blister. At risk of sounding overdramatic:  these rings were on the fingers of two people figuratively inside a crucible.  And now, some twenty years later, these same rings are literally inside a crucible only to experience a very different outcome.  There's something even more profound going on here.  Melissa hasn't come out and said it directly, but there's the clear suggestion of forging a new beginning; a way to acknowledge and learn from the past and how she can perceive herself and future decisions in relation to that. She is the sole owner of her destiny.
Melissa is my sweet, sweet, Nitzschean Übermensch. Or ÜberFrau.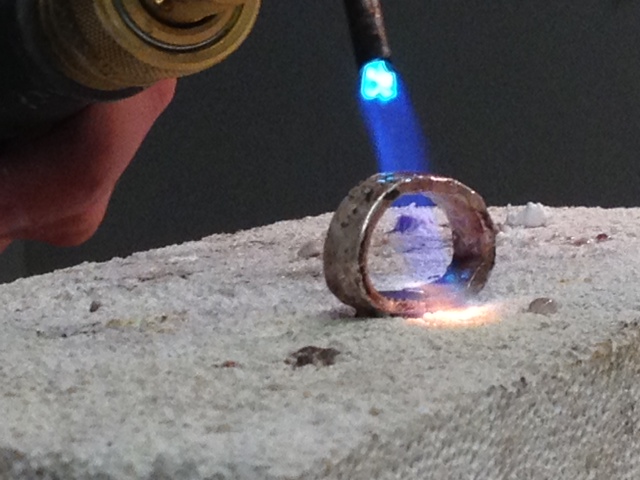 Melted into small tiny rods the size of pretzels a president might choke on while watching a football game, these metals lack all the glamour and emotion associated with their purpose. There is a mechanical device – not unlike a penny stretching machine – through which these tiny rods are cranked and thereby stretched.  We crank our metal rods through this device several times.  Sometimes, however, the rods resist our efforts and must be taken to be blowtorched. This does something to the atoms inside the metal that makes it easier to crank them through the machine.  When the metal is glowing red from the blowtorch, we pick-up the metal with tweezers and drop it into a bowl of cool water. This makes a sound not unlike the one you might imagine is produced when a portal to another dimension seizes shut.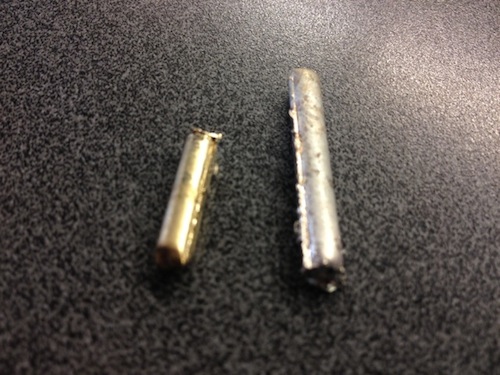 The anvil we used was not manufactured by the Acme Company, nor was it dropped on anyone's head. It was satisfying, though, to lay the rod (or in my case, two rods) of metal and tap the texture into it.  Melissa is an environmentalist – a tree hugger. So, for my ring,  I asked her to create a texture similar to tree bark. She liked the idea so much, that that's how I textured hers.  We used hammers designed for such work, carefully holding the metal in place and even more carefully not hammering our fingers.
Want to check out the rest of Chris & Melissa's ring-making process and the beautiful end results? Part Two is coming next week!