Today's LoveintheD real wedding post is short and sweet.
In 2009, Sean and I attended the wedding of our friends Alicia and Lee. We became friends when Sean and I began attending services at the First Unitarian Universalist Church of Detroit at the time Alicia was on the board. Alicia and Lee had an intimate winter wedding… and the Christmas Eve candles were still up in the church. It was beautiful! One of the highlights was the yummy dessert bar. Another highlight was the way the officiant spoke about Alicia and Lee's hope that the marriages of same sex couples would someday soon be legally recognized across the country.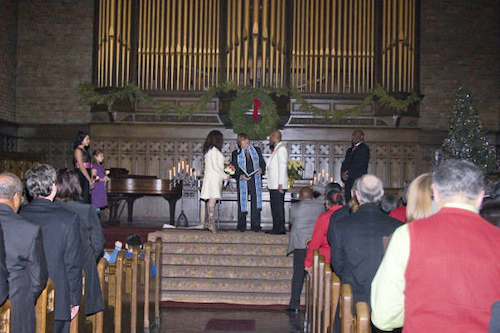 From Alicia:
As a mature couple, we opted for a small, do-it-yourself (DIY) type wedding. We were surrounded by our family and friends with a style that was all our own. By having a small DYI service and reception, we were able to have the wedding we wanted; we avoided expectations of others…
The details:
Venue: First Unitarian Universalist Church (service) and old Victorian house (reception)
Officiant: Reverend Drew Johnston
Flowers: Eastern Market vendors
Reception: Dessert theme with sweets, treats, and warm drinks
Music: Recorded music from the 1980s
Photographer: William Townley of TVisuals (Lee's uncle
)
Tailor: Area Code 313 Blu
Hair: Curl Up & Dye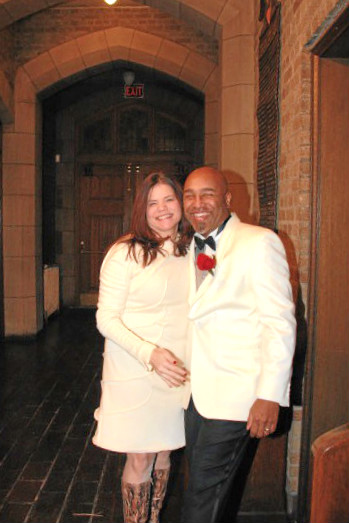 Tell me about your love for Detroit.
Like love, my affection for the city changes and grows over the years. The city allowed me to become my own person, taught me to stand on my own, and taught me that I can be the change I want to see in life.
Having a wedding in Detroit meant we could have a wedding that reflect us, our style and our love of independence, reinvention, and reclamation.  Our officiant, Rev Johnston, made the ceremony that reflected us as individuals and as a couple while including our guests.  The ceremony was something I will never forget.
How did you incorporate Detroit into your wedding? What socially or environmentally conscious choices did you make during the wedding planning process?
Our tailor provided us with a custom designed dress and a custom designed tuxedo. Our wedding was in Detroit in a historic church building known for social justice work. For the reception, we used local retail, shops and services. The dessert reception featured sweets from various local bakeries. We recycled where we could. The wedding planning was all-volunteer and our wedding incorporated many DIY elements.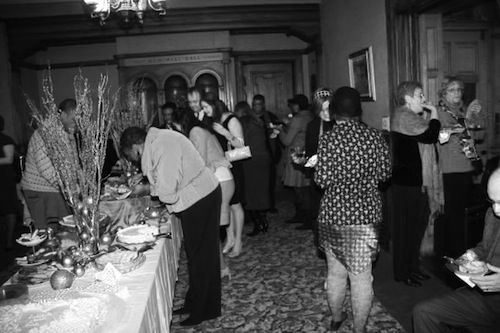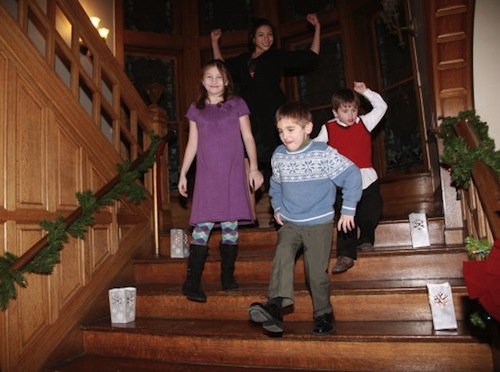 What was your favorite moment of the wedding?
One of my favorite moments was seeing all the candlelight in sanctuary and the snow falling during the reception. Also, I really enjoyed the late evening festivities with few good friends sharing wine and scotch.
What words of advice do you have for those planning their own Detroit weddings?
DIY weddings are very possible! Having your style of wedding is also possible. Not every wedding has to be "by the book." Design a wedding that reflects you, your spouse, and your future together!