Heather Earnley and Guy Samuels unleashed their creative minds on their October 2012 wedding weekend with the ceremony, dance party reception, and bike ride on different days. I love the multicultural combination of Detroit and Hamtramck caterers that Heather and Guy booked for their wedding. The photos of the bike ride and the printed materials that the bride designed herself show how this couple was able to make their wedding uniquely their own!
Originally, Heather and Guy were to be married a few weeks before the reception weekend. But when they learned that Guy's father would be able to come into town from Miami, they decided to have the wedding ceremony during the same weekend so he could be present for everything.  Heather said: "That made everything a little more chaotic, but I wouldn't change a thing to be able to share that with Guy's father!"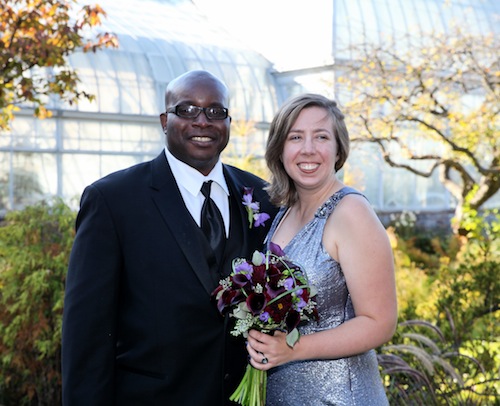 Venues: Ceremony at Belle Isle Anna Scripps Whitcomb Conservatory  / Reception dance party at Northern Lights Lounge   / Post-bike-tour dinner: Motor City Brewing Works
DJ: Craig Gonzales
Catering: Jamaica Jamaica, Royal Kabob, Jacques Taco Truck, Sgt. Pepperoni's, and Franklin Cider Mill
Invitations: Toboggan Run Stationery (run by the bride!)
Rings: Engagement ring by Ericia Bartels, bride's wedding ring by Melle Finelli, groom's ring by Minter and Richter Designs
Hair: Red
Tell me about your love for Detroit.
There is so much hidden culture and cool quirks about Detroit, that it always feels like an inside secret. 
How did you give your wedding guests a "Detroit experience?"
Most of our family do not hang out in Detroit, and only about half of our friends do, so we wanted to have a few events that introduced everyone to the great things that we do all the time, and are unique to Detroit.  We wanted to sort of use our wedding as a showcase to spoil our friends and family with cool experiences.  We wanted to use some of our favorite local restaurants for our food instead of hiring a caterer.   It was also important to us that we had an organized bike ride.  Biking is such a great way to see the city and much more immediate than riding around in a car.  A lot of people who did the ride had never ever heard of the Cut or knew about the new murals in Eastern Market and stuff, so it was great to introduce that.
Guy and I love to ride our bikes through the city, and we wanted to share that with our friends and family.  Plus, we had a fair amount of people coming in from out of town and we wanted to make the trip memorable. We wanted to showcase the Riverwalk, the Dequindre Cut, the new Eastern Market graffiti, Belle Isle, and the Heidelberg Project.
Wheelhouse Detroit is a company that rents bikes right on the Riverwalk, which was perfect for all our out of town guests.  I mapped out a route that was about 16 miles, that included all of the sights we wanted to highlight, and I felt was an easy, fun distance.  Everyone had a great time, despite the rain that threatened to cancel the ride, and the sun came out by the end and all was well.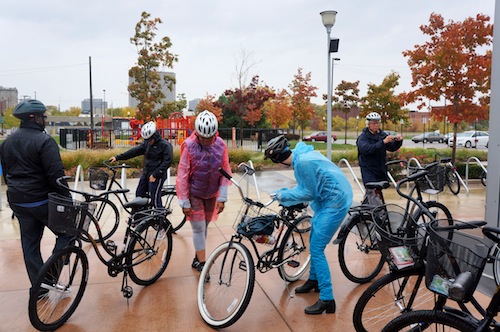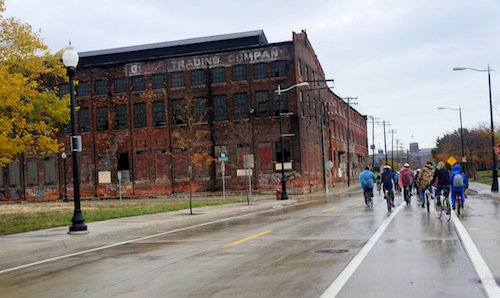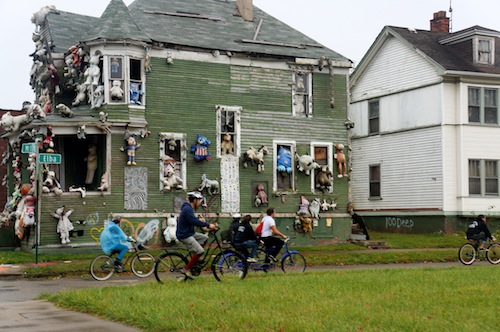 You had quite a lot of caterers! Tell me about the food.
Guy's one request in all of the planning was he wanted Jamaican food to celebrate his heritage.  We ordered Patties (both veggie and meat) and chicken wings from Jamaica Jamaica, a Jamaican Restaurant in Detroit.  We also ordered a fatoush salad from our favorite Middle Eastern place in Hamtramck, Royal Kabob.  I have had a major obsession with tacos for years and so having a Taco Cart come and serve tacos and enchiladas was a natural choice.  The Jacques Tacos Truck was a hit, as was the fatoush and jerk chicken. We had pizzas delivered by Sgt. Pepperoni as a late night snack as well.  And for dessert we had cider and doughnuts from the Franklin Cider Mill.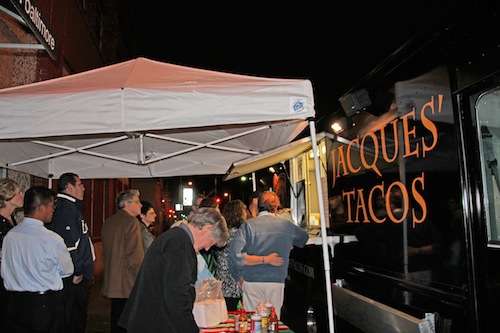 What was your favorite part of the wedding planning process?
Designing all of the stationery was definitely my favorite part of the planning.  It was such a fun challenge to create a beautiful invitation that perfectly conveyed the spirit of our celebration.  And then to expand that vision into a whole suite of cards was awesome.  My other favorite moment was when Guy and I were choosing our Vows for the ceremony.  We were both on our laptops, drinking a glass of wine and laughing over all of the saucy ones that we kept finding that were not what we were looking for, but so funny and inappropriate.  I enjoyed all of the planning process, but that night was probably my favorite.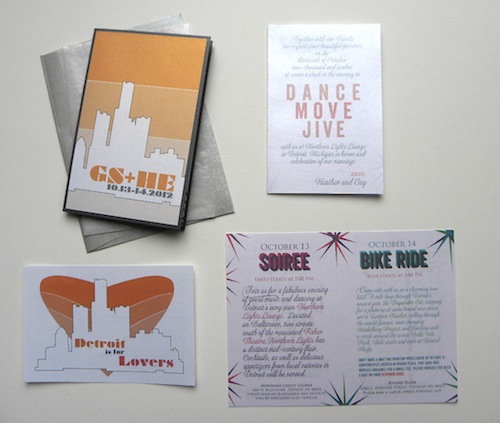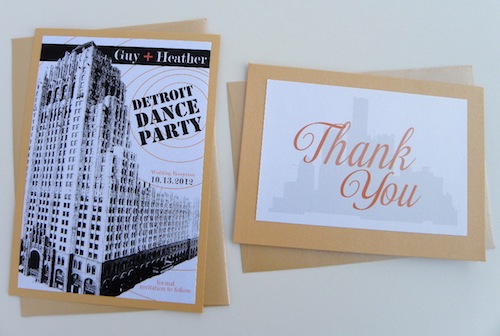 What words of advice do you have for those planning their own Detroit weddings?
I would say: Don't be afraid to find creative solutions! Weddings have a magical effect on people and friends and family will come out and support your ideas or your vision, so don't be afraid to do what you want.