Hooray! It's the first groom's view post by my husband Sean! Check it out and consider leaving him some blog comment love. Note: It was I, not Sean, who linked words like "sartorial" and "audiophile" to their definitions. He has a bigger vocabulary than I…
Planning a wedding can be a very stressful process for a couple. There were times during the planning phase of our wedding when I wondered if surviving the planning process was the first test of our potential as a married couple. While every couple will have its own internal dynamics that are usually not apparent to friends and family, those reliable guidelines can go out the window when previously undisclosed wedding traditions and expectations come to the surface.
Fortunately, I'm a sartorial traditionalist, an audiophile and have an interest in design and art so I took the lead in designing invitations, hiring a DJ, arranging music, and selecting tuxedos (and a dress) for the groom's party. Of course this planning process did not happen in a vacuum and Stephanie was my chief collaborator and the inspiration for everything that is commendable in the abovementioned areas of responsibility.
Selecting an initial design for our invitations was actually very easy as I had given Stephanie a painting of us by Matte Stephens as an engagement gift. We were certain that we wanted to use it on the invitations; however, I also had my heart set on a letterpress element and avoiding anything too elaborate. One challenge was that most letterpress shops do not also do giclee printing (high-end, high-resolution inkjet). The other challenge was that letterpress paper is not engineered for giclees. After consulting with Detroit letterpress shops I was aware of at the time, I could not find one that was interested in the job. [Salt & Cedar is the relatively new letter press shop in Eastern Market that did not exist when we were planning our invitations.]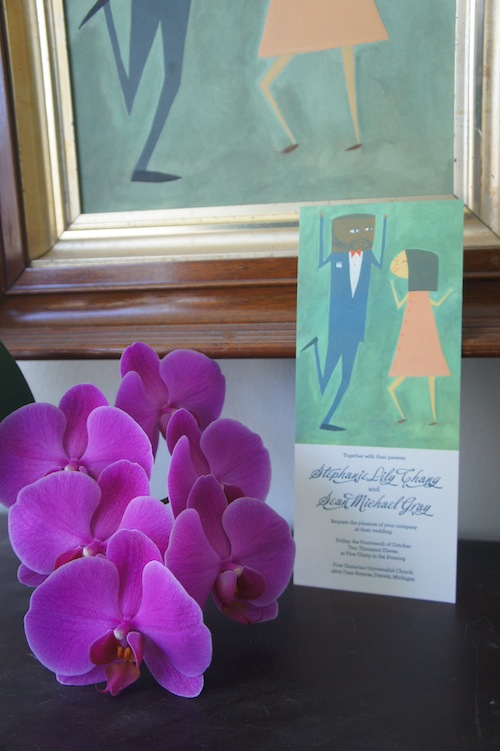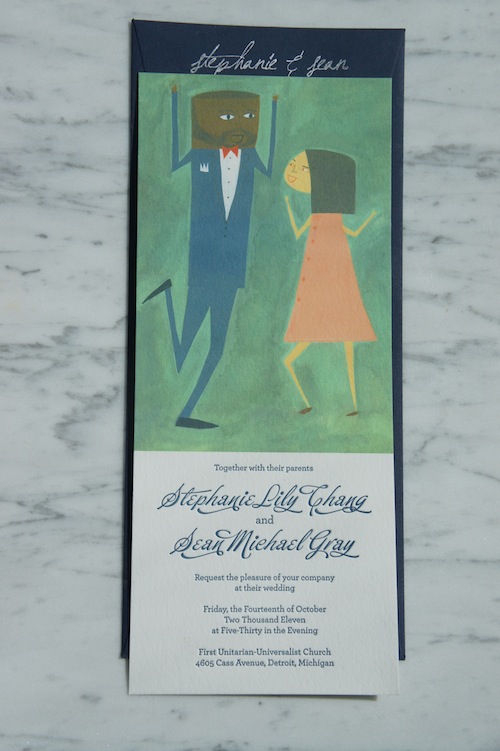 After weeks of internet searches, I reached out to the Elevated Press in Ann Arbor. The owner, Michelle, was willing to discuss the project and help us develop a layout that simplified the project. I borrowed a giclee printer and printed the image per Michelle's layout and then delivered them to her for her to press. I made sure to reach out to Matte for permission before sending Michelle the image and he was honored that we were including his artwork in our wedding invitations.
After a great deal of trial and error and reading some technical documents on using Photoshop and printing on a printer with eight separate color cartridges, I was able to reproduce the image with the level of accuracy and nuance I had hoped for — no simple task when using ivory paper. Michelle then printed the letterpressed portion and RSVP cards. We ended up with an opportunity to visit the White House in April 2011 and actually present President Barack Obama with an invitation to our wedding.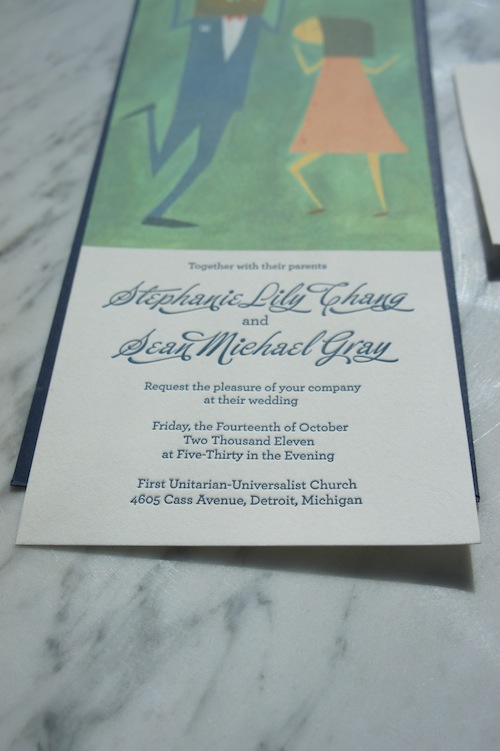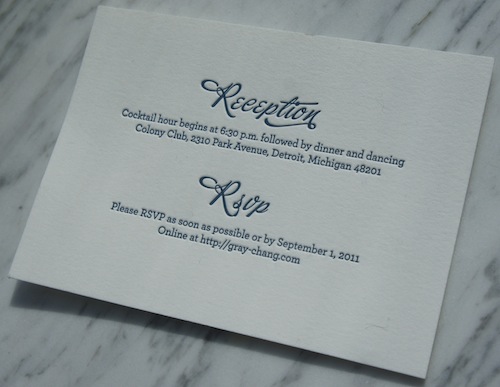 His response was that ours was "the coolest wedding invitation he'd ever seen." President Obama also said that he would try to make it if he was in town. It turned out that he was in Detroit on our wedding day to meet with then-President of South Korea, Lee Myung-Bak. Good thing he didn't show up as tapping one's glass to elicit a kiss between the newlyweds could have been grounds for a cavity search.
Michelle ordered beautiful navy envelopes from Paper Source to coordinate with the ink on our invitations. I ordered a custom return address stamp from 2impress on Etsy. Stephanie hand addressed the invitations in silver ink due to her talent for writing legibly.