On our wedding day, Sean and I ran out of time before the ceremony to take photos at some of the locations on our list. [Psssst. Tip: Brides, if applicable, schedule your own hair or make-up for the middle of your bridesmaids list — do not put yourself at the end of both lists. Oops!] So, last fall, Sean and I decided to take one year anniversary photos.
Lucky for us, Ryan Southen had recently moved into our lovely neighborhood of Lafayette Park! After Ryan's wedding photography website thoroughly impressed Sean, I checked out the website and was equally impressed. Ryan spent several hours with us and we were incredibly happy with our anniversary photos. And we had a blast!  Scroll down to see some favorite Detroit wedding photographs by Ryan Southen Photography.
Meet Ryan.
What inspired you to get into wedding photography?
I was shooting architecture and commercially but when the recession hit, those jobs disappeared on me and most other photographers in Metro Detroit. I was fortunate enough to have a friend who was in a similar boat. He had started shooting weddings and asked me to assist him. The first wedding he asked me to help him out on happened to be a destination wedding in Maine, so my very first experience with shooting weddings involved flying on a plane and shooting an amazing couple on the Atlantic Ocean! Not a bad way to start and from there, I was hooked. It didn't take me very long to fall in love with wedding photography. I have met some amazing people, many who have become great friends, and I have been able to travel and photograph some amazing places.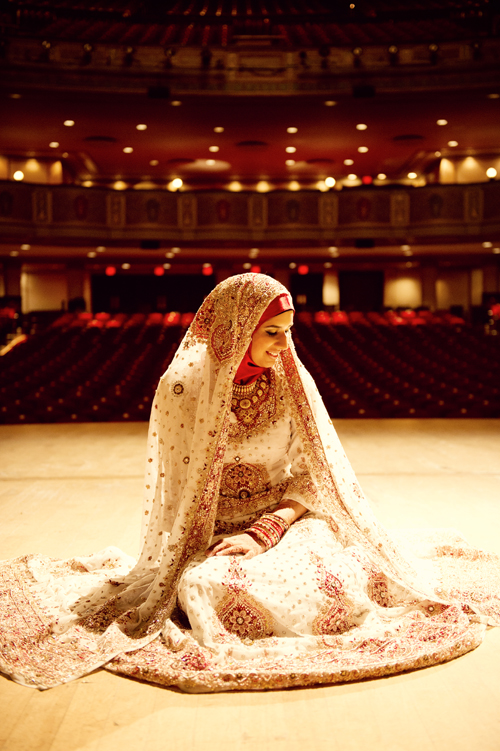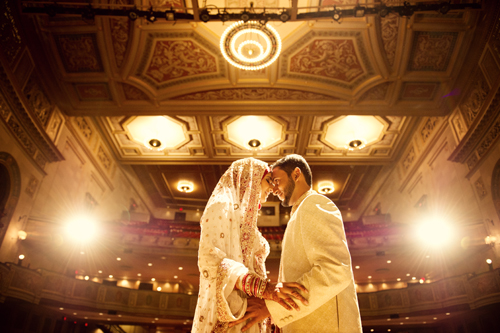 Describe your photography style or approach.
I like to think of my style as modern or contemporary and I've been told that people can see my architectural background in my photographs. It's that perspective that helps me be more creative and deliver a unique product to my couples. I feel that weddings should be fun from start to finish so I would say that I have a relaxed approach to shooting, with an emphasis on having fun! I like to get to know my couples and joke around with them. It ends up making the experience more enjoyable and the fun shows up in the photographs.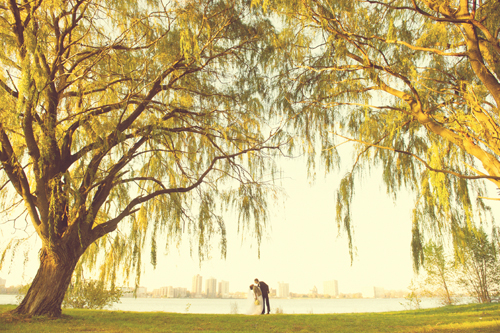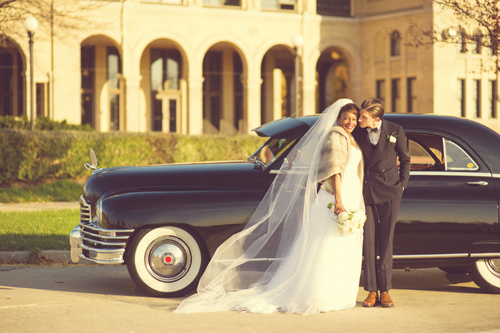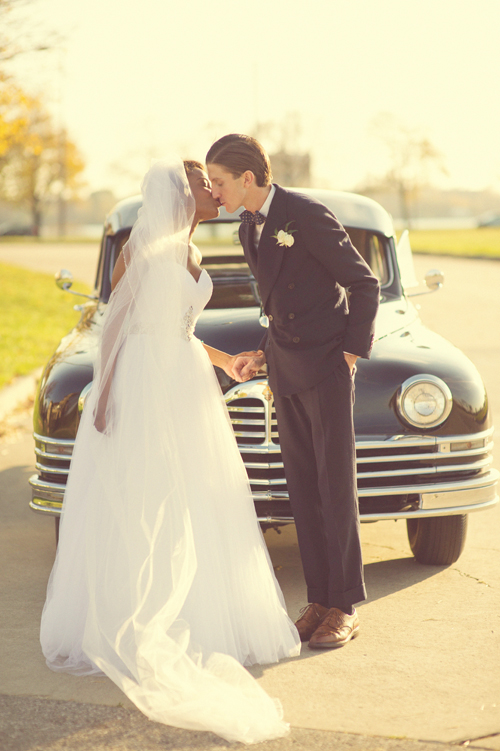 Tell us about your move to Detroit. How did you decide to move downtown to Lafayette Park and what do you love about Detroit?
Before I became a photographer, I had dreams of becoming an architect. That dream began with family trips to Detroit when I was young. I became inspired by the buildings and built environment. Detroit fueled my passion for architecture and when I decided to go a different route in life and try my hand at photography, it became the backdrop for my photos. The city has had an unbelievable impact on me from a creative standpoint, so it was a no brainer for me to move down here. I chose to live in Lafayette Park because I love mid-century architecture and design. There is no better place in Metro Detroit than Lafayette Park for that! The neighborhood is wonderful, the people are wonderful, and i love being steps from downtown, the riverfront, the Dequindre Cut and Eastern Market. I really can't think of a more perfect place for me. It feels great to be a part of Detroit's renaissance!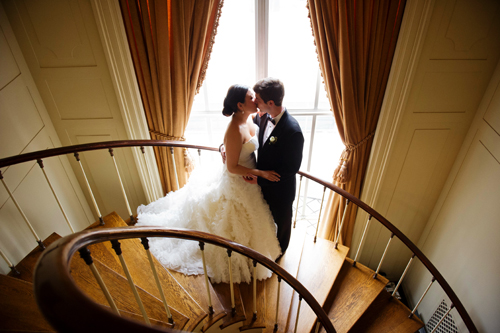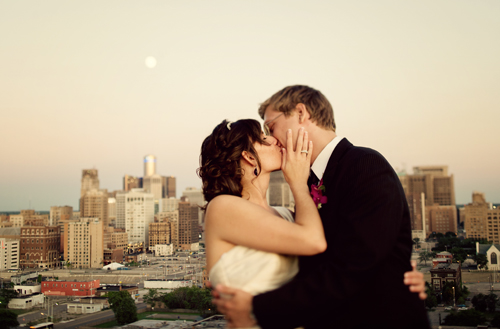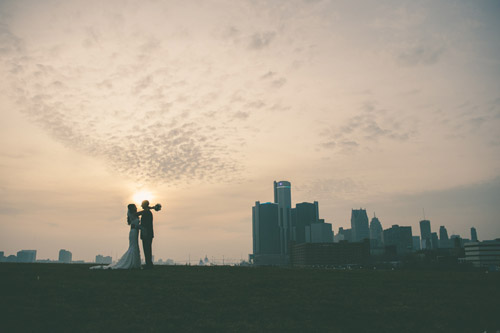 What are your three favorite Detroit wedding venues to photograph?
Orchestra Hall – The staff is incredibly accommodating and the mix of the old theater with the modern addition makes for some really great photographic opportunities.
Colony Club – It's a stunning venue for anyone who wants a classic look.
Detroit Institute of Arts – Although I was told the wedding I shot there in 2011 was the last one to use the Grand Hall, it is still an amazing venue with many possibilities both inside and out.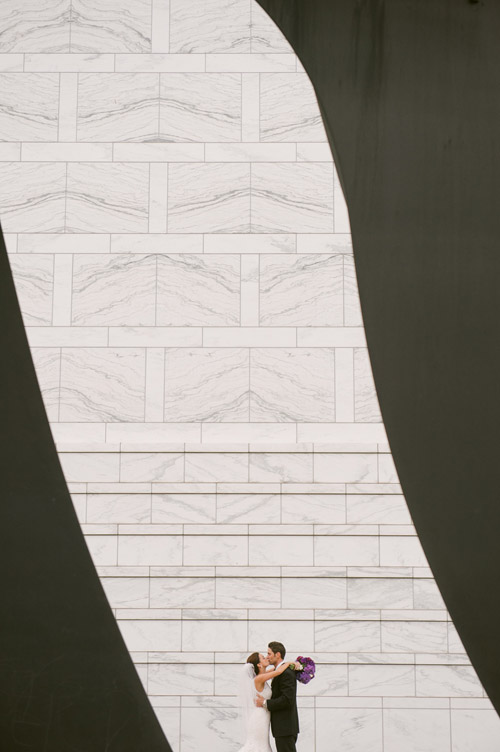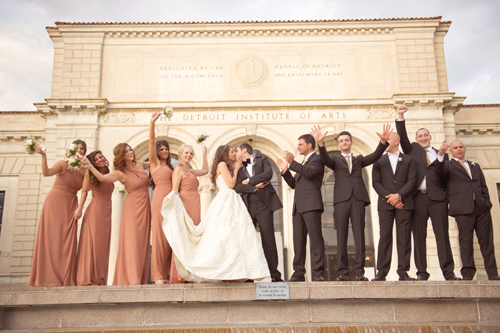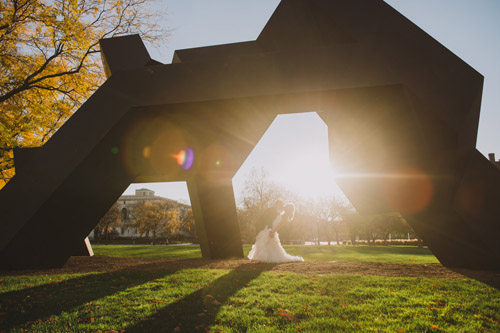 What are your three favorite Detroit spots for engagement photos?
Belle Isle, the DIA, and the riverfront are all pretty popular spots for my engagement photos. I think my favorite engagement shoots are the ones where we just explore downtown or Midtown without any real plan. The city has so many cool spots for photos that people don't realize are there. There is potential on every block, which is one reason I enjoy shooting down here so much.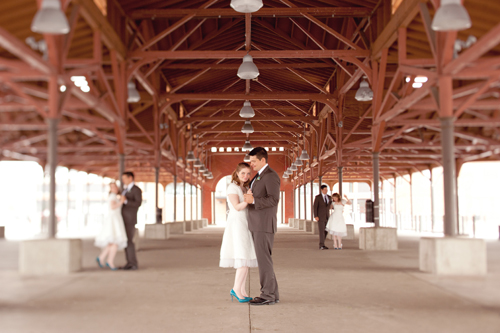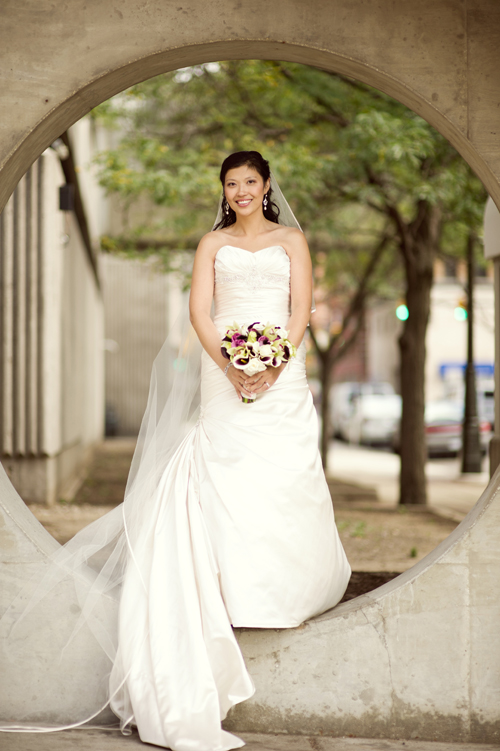 Any predictions for Detroit wedding trends in 2013?
I predict that Detroit venues are going to get tougher and tougher for people to book. I have been doing this for five years and in that short period of time, I have been amazed by how much earlier brides and grooms are booking vendors and venues. With all of the positive things happening in downtown and Midtown, I think it will be tougher for people to book the venues they want.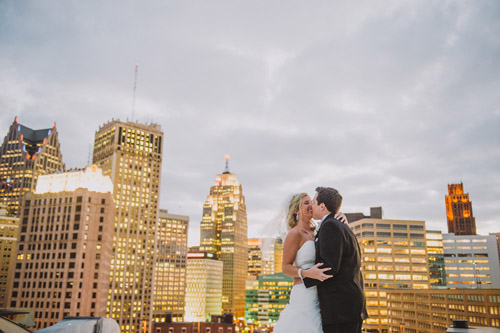 If you could give one piece of advice to Detroit brides & grooms who are trying to choose a wedding photographer, what would it be?
Sit down and meet with your photographer. Depending on how early you book them, it is a relationship that can last years! It is important that you not only like your photographer's work, but that you like the photographer as well. A good relationship with your photographer can be the difference between natural looking photos and uncomfortable ones.
Readers: Which is your favorite of the beautiful shots above?