Last spring I met Bridget Sullivan while shopping at the Peacock Room in Detroit and exploring the idea of doing a vintage wedding photo shoot for LoveintheD. Turns out Bridget is a fashion designer who loves using vintage apparel to create new looks!
She is a contestant in the Detroit Institute of Arts "Beyond the Armor" design contest and created an amazing dress using a vintage wedding dress. I interviewed Bridget recently. Check it out!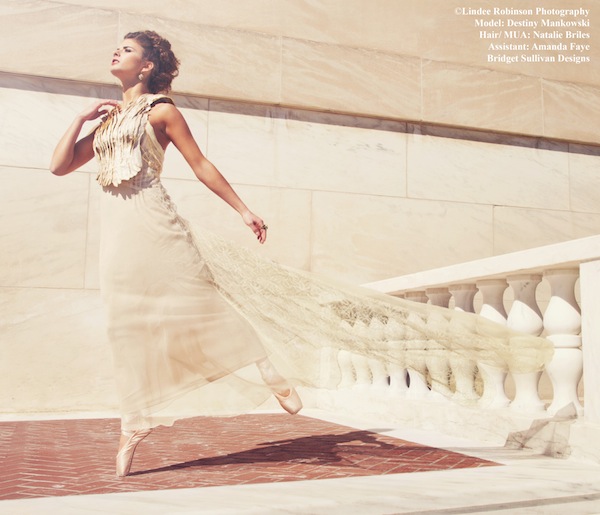 How did you get into fashion design?
I've been making things for my entire life, but it was't until I found the Fiber Arts department at the College for Creative Studies that I decided to focus on fashion design.  After graduation, I moved to New York City where I interned at Diane von Furstenburg and worked in an eco-friendly fashion showroom called FoundFuture.  Grammy-Award winning musician Esperanza Spalding began performing in my designs around the same time, and has since worn my garments around the world on tour.  I'm now back in Michigan, where I work as a fabric desiger at Lear Corporation and work on my personal fashion line, Bridget Sullivan Designs.
What do you love about using vintage wedding apparel?
I have used many types of vintage clothing for my designs, but wedding dresses are my favorite.  Not only do the yards and yards of white material make them the perfect blank canvas, but I love the romantic idea of working with a dress that someone has gotten married in.  It seems like such a waste for these beautiful garments to be worn only once.  I love giving a new purpose to traditional, romantic dresses.
Tell me about the dress you created for the DIA samurai exhibition design competition and how you found the vintage wedding dress you used!
My "Crane Dress" is inspired by "Reeds and Cranes," a silk painted folding screen painted by Suzuki Kiitsu.  He was trained by a powerful Samurai artist named Sakai Hoitsu, who adopted him and elevated him to the elite Samurai class. Samurai culture is full of rich symbolism, and the crane is a powerful image that can mean many things.  The Samurai warrior learned about facing death bravely by watching cranes, who appear calm and fearless when attached by an enemy. Cranes are a symbol of longevity and soaring spirit.  They are also considered good luck in marriage because they mate for life.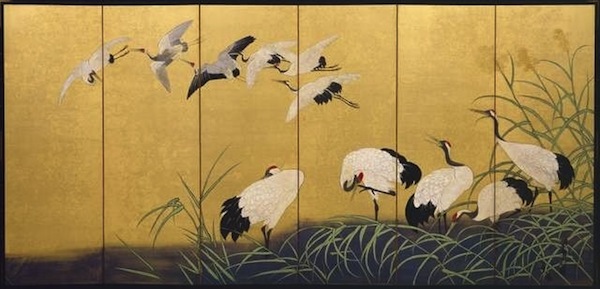 I designed the Crane Dress specifically for a talented dancer named Destiny.  I was inspired by the Samurai practice of balancing"bun" (arts) and "bu" (war).  This reminded me of the beautiful blend of strength and grace in ballet, as well as the delicate power of the crane.
I bought the vintage wedding dress I used to create my competition design at the Grosse Pointe Neighborhood Club Thrift store.  It was only a sheer shell of a dress with no lining.  I kept it in my studio for over a year before using it to create my "Crane Dress."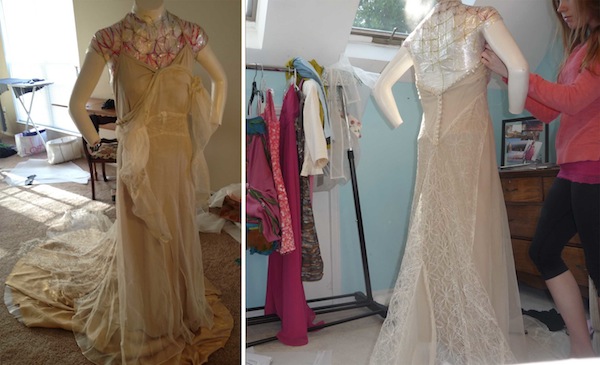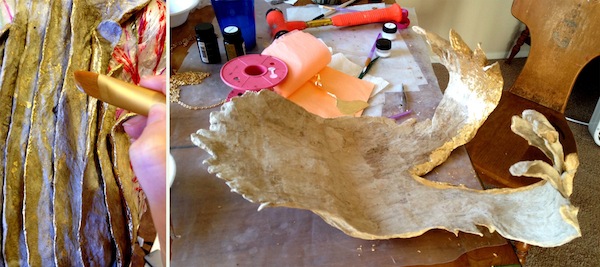 Can you tell me more about the competition?
I am one of 10 fashion designers competing in the "Beyond the Armor" fashion challenge sponsored by the Detroit Institute of Arts and the Detroit Garment Guild.  We were given a private tour of the fascinating "Beyond the Armor" Samurai exhibit at the DIA, and challenged to design garments inspired by what we learned and saw.
You can vote for your favorite design by clicking here (vote for Bridget Sullivan, #8!) now through May 12th.  The winner will be revealed on May 17 at a fashion show finale at DIA.  The show starts at noon and is free with general admission. RSVP by calling 313-833-4005.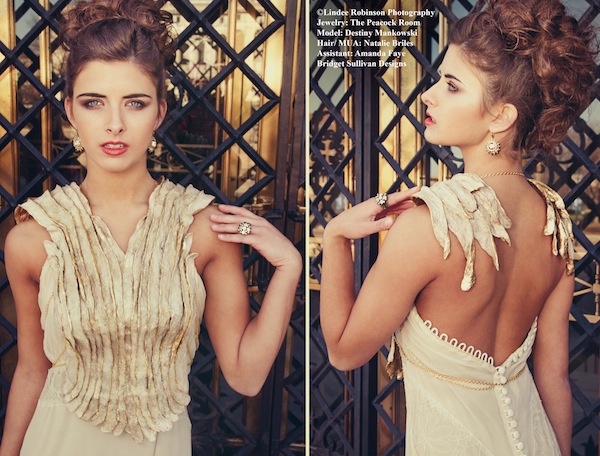 What/who/where in Detroit inspires you in your fashion designs?
Detroit is a wonderful city to be an artist. My education at CCS taught me how to be an professional working artist, and opportunities such as this competition have allowed me to showcase my designs in unique and special ways.  There is a strong community of creative people, and I'm happy to have met many more through this competition.
As a fashion designer, it is important to have a network of people to help my designs come to life.  I consider myself lucky to be friends with very talented photographers, models, makeup artists and business owners who have supported me and my designs.  For the Crane Dress photo shoot, local photographer Lindee Robinson took photos of model and dancer Destiny Mankowski at the DIA.  Hair and makeup was done by Natalie Briles, and jewelry was provided by the Peacock Room boutique.  Thank you all!