Today's LoveintheD blog post is by Julie Tobi, a Metro Detroit wedding planner who planned her own Detroit wedding in 2010! A few months after the wedding, her family discovered her grandparents' Detroit wedding album from 1949. Read on for the story…
Drawn to Detroit
When planning our 2010 wedding, my husband and I considered Detroit right away. We were both drawn to Detroit – its history and its future, and our family history in Detroit. At some point, most people in our families had lived in Detroit in one decade or another, and many others had worked in Detroit. My husband and my dad attended high school in the same building, though decades apart the school had different names.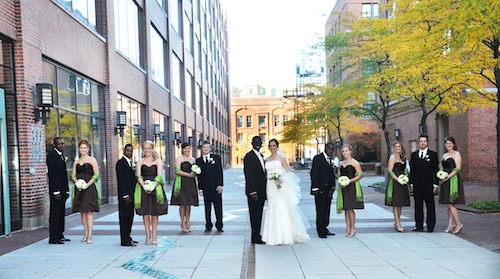 Logistically, Detroit was fairly central with us living in a nearby city, me being from Metro Detroit, and my husband being from Detroit. But it was not logistics that convinced us. We believed in Detroit and wanted to show our family and friends a good time in a city that many spent little time in because they thought there was "nothing" in Detroit. A city that we had great hope in..
We decided on the Rattlesnake Club and it was amazing. We were married on an absolutely perfect fall day (75 degrees and sunny in October!) right on the edge of the Detroit River. Our hope of showing our guests a glimpse of a Detroit they hadn't experienced became reality. During cocktail hour I saw one of our guests smiling and looking around her. Then she said, "This feels like Chicago." "No," I thought, "It feels like Detroit."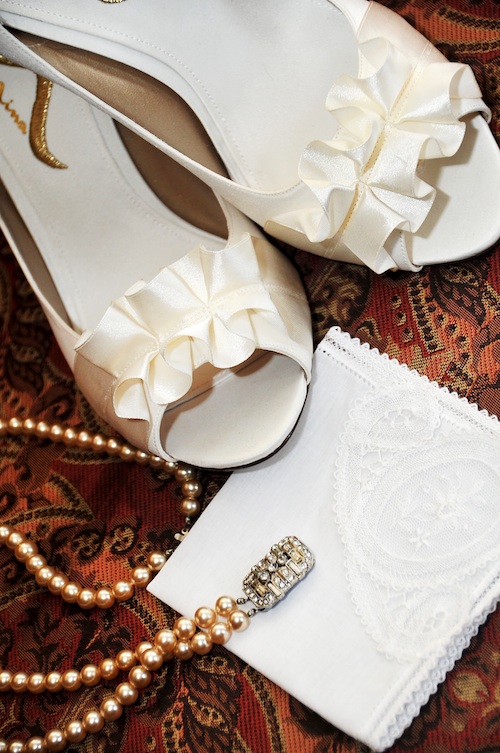 A piece of family history
Three months before our wedding, my grandma died. Before she passed, she told my aunt to tell me she was sorry she wouldn't be at my wedding. She was always thinking of her grandkids. I honored her on our wedding day by wearing her rhinestones in my hair (earrings I turned into hairpins), wrapping her pearl necklace twice around my wrist during the reception, and putting one of her handkerchiefs in the bodice of my dress. She was with me.
A couple months after our wedding, my family was going through my grandma's belongings and came across her 1949 wedding album to my grandfather, who died before I was born. They wed in Detroit. Looking at the album, I was transported to a time that looked magical and simple in a beautiful. Some of the pictures seemed serious and formal; some showed what I interpreted as deep love; others showed dancing. What I loved most was that they seemed so rich. I felt like I was holding a piece of family history and Detroit history that should be in a museum.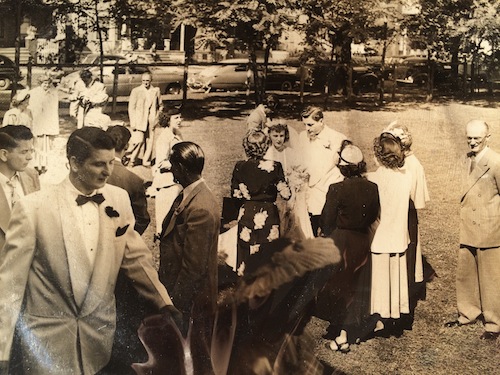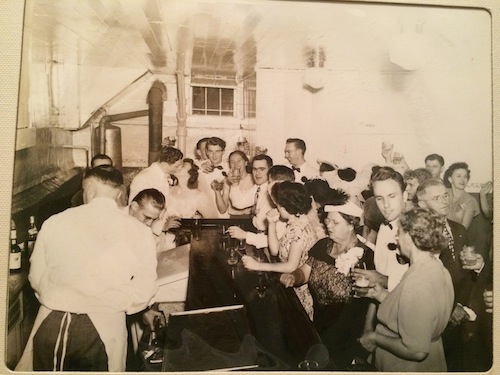 My favorite picture is from the reception, or maybe even the after party, with everyone gathered at a bar. You see people talking, my grandparents kissing, my great-grandma at the bar wearing a hat and a huge corsage. Then — a real gem, the last picture in the album, my grandparents in their get-away car with a sign on it that reads "Just Married Watch Detroit Grow." I tried to imagine the hope they had in their youth for the city they lived in. The history of my grandparents' wedding in Detroit and finding that picture months after our wedding made our Detroit wedding even more perfect.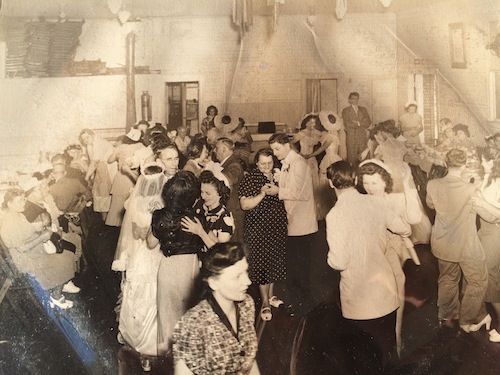 Moving forward
Now I help other couples with their big day as a wedding planner and coordinator. I started J. Eliza Events because of how much I loved planning my own wedding and because I wanted to help couples plan a wedding focused on the reason for the event – to join two people together and revel in the emotion of it all. I like to say that weddings aren't about chair covers and perfect make-up – they're about committing yourself to another person and the emotion and beauty that comes with it. I love being a part of that.
In wedding planning, I encourage couples to only do what feels right to them. It is easy to get caught up in "musts" and "shoulds" and feeling like you need to spend a fortune, and throw the bouquet, and eat cake, and have it all. (Of course if you want to do those things, have a blast doing them!) One of my favorite weddings skipped most of the "traditions" and they served key lime pie instead of cake…it was truly one of the most spectacular weddings I've been a part of. You could feel the love and happiness the entire night and when it was over, no one wanted to leave. And I can guarantee no one missed the bouquet toss.
Now that I help so many other couples with their weddings, I often think of my own wedding day. One of my favorite moments from that day wasn't even part of the wedding festivities. The morning of our wedding my husband and I walked out the back door of the hotel and looked at the Detroit River. It was a cool fall morning and the sun was shining. We just stood next to each other and looked at the river in silence. We knew the day was going to be busy, full of emotion, and at the end of it we would be married. That silent, calm anticipation, standing next to my now-husband, is one I'll never forget. What we were about to do was big, and we were ready.