My sincerest apologies for the long break between posts! As some of you know, I recently won the primary election to serve as state representative for House District 6. It's been a busy year. Anyway, on to the blog post!
This summer Sarah of Fresh Cut Detroit and I connected. I was excited to learn about her flower farm! Have you been trying to find locally grown flowers? Want to support a Detroit vendor as you plan your Detroit wedding? Read on!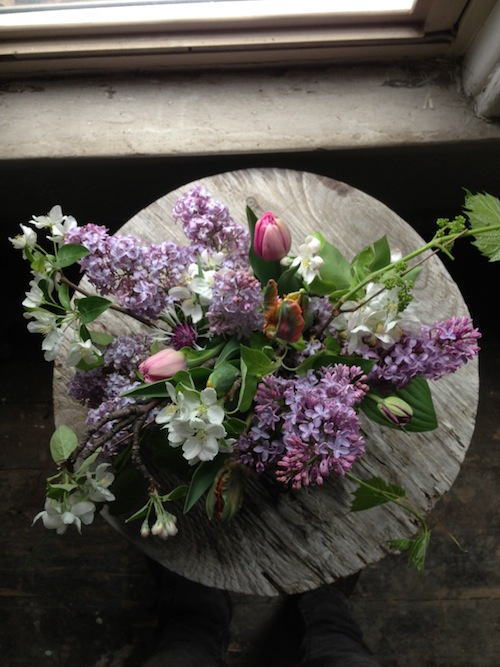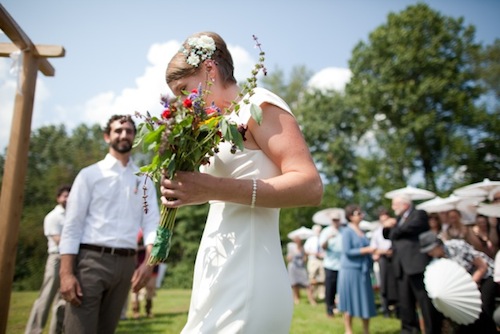 Tell me about Fresh Cut Detroit! When did it start, and what's the story of you got started as a flower farmer here in Detroit?
Fresh Cut is a flower farm in Woodbridge, Detroit. This is our first season on this land, with this business, though I have been growing flowers, fruits, and veggies for around 9 years. After 3 years in Detroit managing a farm site for local nonprofits, I decided I was ready to start my own farm. I'd been honing in on the idea of a flower farm for a while. There's a strong network of very local veggie growers, but not much of a specialty in cut flowers yet. Nationally, the trend of local flowers has followed closely behind local food, so it seemed like a good bet that that same desire for small-scale, locally grown flowers was heading to Detroit! Also, it's easier to hold $20 in your hand with flowers than it is with veggies (it weighs less, too!) so it makes it a good option for a family business on a small plot of land.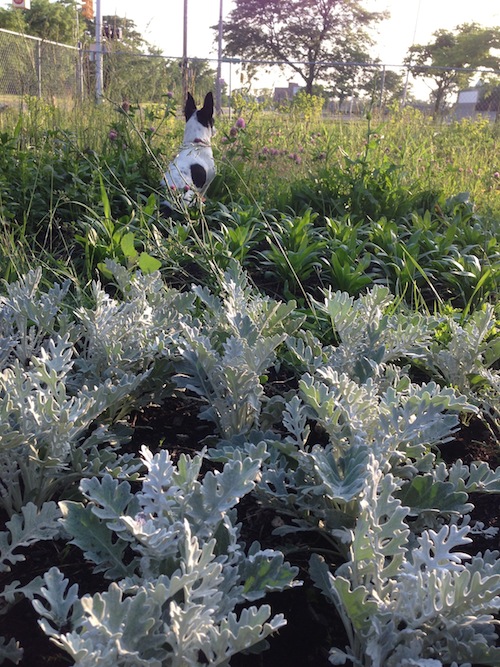 What kinds of flowers do you grow in your garden at the edge of Woodbridge? How do you decide what to grow?
I grow a big mix – around 100 varieties. I have established many perennials, which will provide blooms for years to come, though they're not ready for much commercial harvest yet: dicentra, astilbe, baptisia australis, centaurea, alstroemeria, foxgloves… For the next couple years, I will be relying more on annuals like dahlias, snapdragons, thai basil, scabiosa, ageratum, flowering kale, long-stemmed marigolds and zinnias; and wildflowers from around the city, like asters, chicory, sweet peas, queen ann's lace, brassicas, and yarrow.
I use many factors to decide what to grow: what's well suited for this climate, what trends I see in wedding media, what is affordable to purchase and establish, compared with what the market price and demand for that stem, and spreading the blooms out from the earliest spring to the latest fall, as well as what can be dried or otherwise stored for winter events. I'm growing (and drying) in preparation for winter things like dusty miller, strawflower, statice, and gomphrena. I've also been lucky enough to inherit some beautiful plants from the previous owners of our house: a mature apple and cherry tree, roses, and peonies!
Can you tell me about how Fresh Cut Detroit is environmentally and/or socially conscious?
My whole body of experience in agriculture is in organic settings that based their decisions on a balance between organic standards and research, long-term health of land, workers, and customers, and productivity balanced with fertility. This is the only way I know how to grow, and I'm doing my best to enact those same types of decisions on the farm. Socially, living in Detroit these last 4 years has raised my consciousness immensely. I don't have any rule book to follow, but I try to do my best to be fair, respectful, and supportive of my neighbors in all my decisions.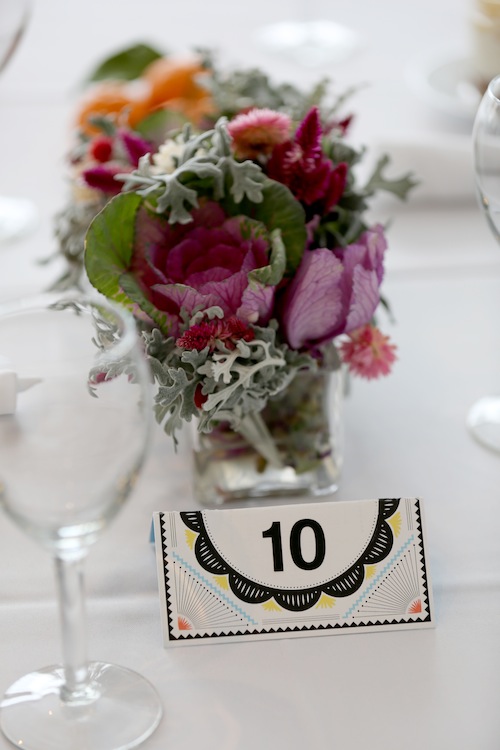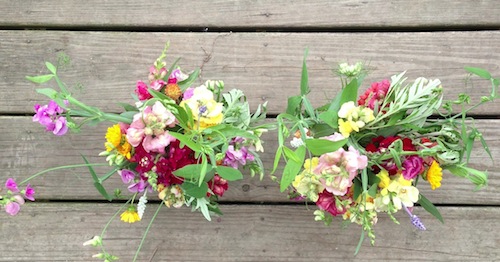 Are there certain flowers that you find the most fitting for a summer wedding next year that you grow in your garden?
There are so many wonderful things blooming in June and July that there's no way to go wrong. There are lots of pinks and oranges available, as well as a wide variety of berries in various stages of their lives. This is a great time to add unripe raspberries into bouquets, as well as baby grape bunches on beautiful strong vines. Right now my zinnias are just beginning and I'm so in love with the dark, dramatic patterns on the unopened buds. They are wonderful for detail work like bud vases, boutonnieres, and crowns.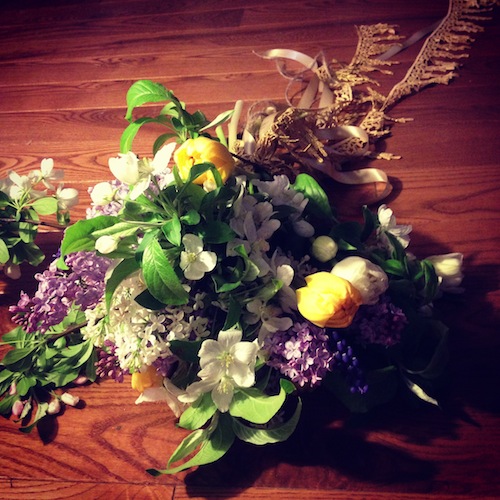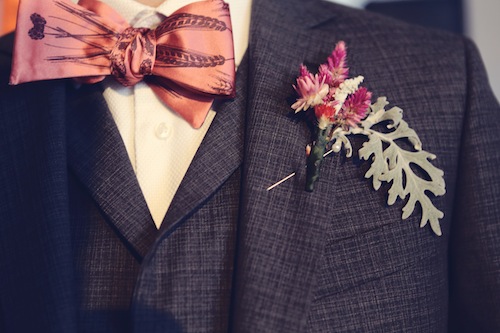 How would a bride or groom get started in working with Fresh Cut Detroit on some flower arrangements for an upcoming wedding?
For special event flowers from Fresh Cut Detroit, the best thing to do is email me [freshcutdetroit@gmail.com] with your date and any aesthetic interests. I'll send on my basic price list, then if it looks good to you we'll get together and talk through what you want, what you like, and what is seasonal. I'll prepare a detailed quote, then to reserve you'll provide a deposit, usually around $200. Most of my weddings are under $1000, and I'm really happy to be able to provide beautiful special event flowers for prices that are accessible for many. I also provide a range of options, from buckets of blooms for you to arrange, to just accessories for the wedding party, to full design and delivery.
Anything else you would like to share?
I'm actually surprised by how much I've enjoyed wedding work. I thought that brides and grooms would be really difficult and demanding to work with, but the customers that find their way to me are interesting, lovely people who want to direct much of their wedding dollars into the local economy. They've been flexible and adventurous! My favorite part is drawing peoples' attention to the specific smells of their wedding flowers – be it lilacs, privet, peonies, roses, honeysuckle… and that's just springtime! Since scent is such a strong tie to memory, I love the idea that every year when that flower blooms, these people will be reminded of the joy and commitment of that day.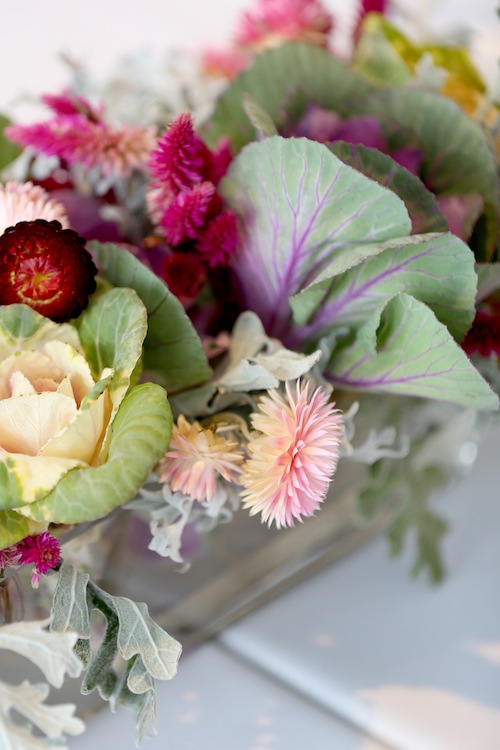 Thank you Sarah for sending over these beautiful images and sharing your experiences with LoveintheD!
Readers: What kinds of flowers do you see in Detroit that you would love for your own wedding?