Today's LoveintheD post is a guest post from wedding blogger Jessica Socheski!
Picking the right people to be in your wedding party can result in a lot of drama and confusion. Many brides and grooms have questions about how to walk through the process and whom they should choose. Here are some important tips for finding the perfect family and friends to stand beside you at the altar.
How Many Should You Have?
One of the most frequently pondered questions when it comes to wedding parties is how to choose the right number. Fortunately, there is no magic combination to select. That choice is up to the couple alone. But there are some basic guidelines to help.
Balancing attendants can be done with a ratio of between 35 and 50 guests for every 1 bridesmaid. However, brides and grooms are free to pick a large or small wedding party, regardless of the guest list.
Another common concern is whether or not an even number of bridesmaids and groomsmen must be attained. While it can look nice to have at least similar numbers on each side of the altar, the best rule to follow is to have only those family and friends who you want by your side. This might mean a slightly lopsided look, but that is much better than asking an acquaintance to stand up with you just because he or she is the right height and an extra body.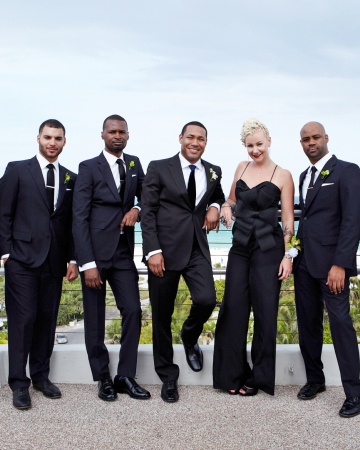 Image Source: blackbridalbliss.com
Bridemen and Groomsmaids?
Many couples simply want their attendants to be the people they are closest to, the people who will stand in support of their marriage for many years to come. And sometimes, this means having attendants of both genders.
Mixed gender bridal parties and groom's ladies with the groomsmen have become a growing trend as couples challenge the tradition of gals on one side and guys on the other. Despite families who raise their eyebrows or chuckle at these mixed wedding parties, the idea has really caught on because it allows a groom's sister to stand up with him or a bride's best guy friend to support her.
Of course, taking this unconventional route will involve some important decisions. For instance, are both the bride and groom comfortable with her best guy friend going to the bachelorette party and helping her get ready on the morning of the wedding? There is also a question of costume. Should your groom's lady find a dress that matches the other groomsmen's suites, or should she wear a pant suit herself? There is really no right or wrong answer. All these decisions are ultimately up to the couple and their attendants.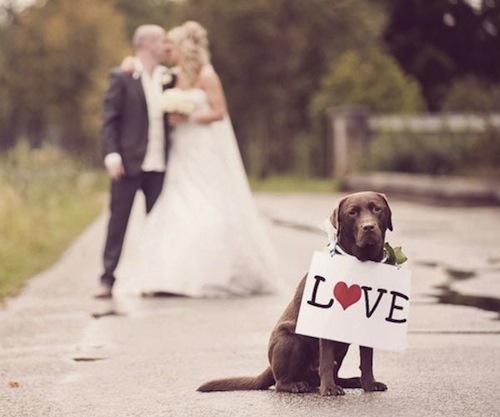 Image Source: www.bridalguide.com
Furry Attendants
While we're on the subject of alternative attendants, what about the four-legged kind? Many couples decide to include their canine or feline best friend as a part of the ceremony or during some other point of the big day. Some couples choose to incorporate their cats or dogs as a part of their wedding. The bride and groom can take a picture with their cat companion, and their dog can wear a bowtie while walking down the isle.
Many weddings also invite equine friends. A bride can take beautiful dress pictures on her horse or the couple can ride in a getaway carriage to the reception.
But before you tie the rings to Fido's collar, make sure that your special pet is well trained and won't be flustered by the excitement of the ceremony and many guests.
Saying Thanks
When it is all said and done, you and your fiancé will hopefully have assembled the perfect group of family and close friends that will be there throughout the engagement and through the rest of your lives together. Now comes the fun part of picking out the perfect gifts to show your appreciation for all their love and support.
Cool groomsmen gifts and bridal party presents don't have to cost arm and a leg. However, they should be thoughtful tokens that take into account that your best gals and guys have purchased outfits and shoes for the day as well hosted a bridal shower, bachelor and bachelorette parties and perhaps even traveled from out of town for the occasion.
var _gaq = _gaq || []; _gaq.push(['_setAccount', 'UA-37463828-1']); _gaq.push(['_trackPageview']);
(function() { var ga = document.createElement('script'); ga.type = 'text/javascript'; ga.async = true; ga.src = ('https:' == document.location.protocol ? 'https://ssl' : 'http://www') + '.google-analytics.com/ga.js'; var s = document.getElementsByTagName('script')[0]; s.parentNode.insertBefore(ga, s); })();