Did you grow up going to the Science Center in Detroit? Or are you engaged to a self-described science geek? If so, consider the Michigan Science Center as a wedding venue!
LoveintheD blogger Shannon interviewed Melissa Wilson, the events manager at the Michigan Science Center. Check out the interview below!
Tell us about the Michigan Science Center.
The Science Center is a unique museum in the midtown cultural center. We have hundreds of touchable, hands-on educational and entertaining exhibits that bring out the kid in all of us. Of the five theaters in the center, my two favorite are the Toyota Engineering Theater where 150 people at once can ride through a kayak obstacle course, and the DTE Energy Sparks Theater, our classic show about electricity that can make your hair stand on end (if you're lucky!). We also have two huge dome theaters, our planetarium, which seats over 100 and the IMAX® theater, which seats over 200. We have truly unique aspects that can only be experienced at the Science Center.
Have you hosted weddings before? How many? Can you share any details about them?
The Michigan Science Center has hosted several wedding receptions over the past year. One couple decided to just use the main floor of the museum, which included a huge sit down space for 230 of their guests. They used the Health & Wellness Gallery for the cocktail reception and then later as the unmarked dance floor. The reception was held in the Lunar Gallery and decor was specifically designed to connect with the ambiance in the room.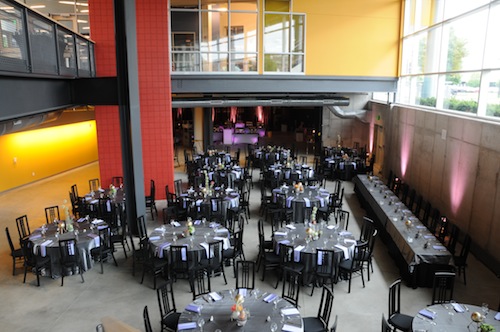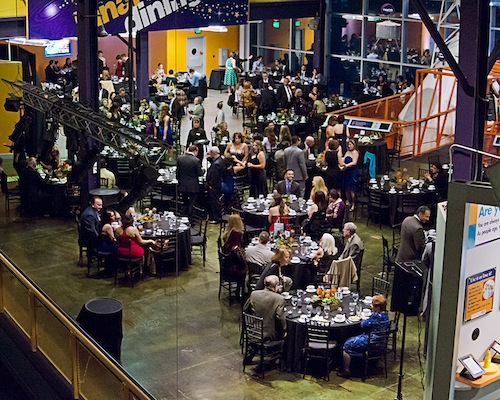 Many people probably wouldn't think to host their wedding in a science center. Why is it such a great venue?
The site visits I conduct are for couples thinking outside of the traditional reception venues. The Science Center is full of quirky spaces and spacious floors filled with fantastic hand-on activities. There are a variety of ways you can use our building to create the FUN in your special day. You could have a sit-down dinner in our Lunar and Space Gallery for up to 300 guests or a strolling dinner for 400. Dessert can be set up on our lower level among our Sounds, Waves and Vibrations exhibits centrally located near the Chrysler Science Stage, a dance floor, big enough to hold a band AND your dancers!
What kind of space do you offer for weddings? Is there room despite all the exhibits?
Currently, we have a great open space called the Science Hall on our fourth floor that is about 9,000 square feet, or the size of a ballroom. It's the perfect space to design as your own, using lighting, draping and table linens and can hold over 600 guests. The best part is that you get the Science Center along with that huge space, including a dance floor and separate cocktail reception area.
What kind of people get married at the Science Center? Is it just science geeks?
The stories I've heard from the couples that either call us or book site visits vary. Most are looking for a really unique venue with an incredible backdrop to their special event. Some either met at the Science Center, came on a field trip when they were young, or really are science geeks. I've met engineers marrying physicists, nurses marrying chemists and even a couple who met in their teens during a robotics competition!
What steps should someone take if they're interested in holding a wedding at the Science Center?
Step One: Contact me at melissa.wilson@mi-sci.org or 313.577.8400, or simply visit the Science Center one day! Walk around, feel the atmosphere, envision your family and friends roaming around just like you are. Step Two: Schedule a site visit. I can help you see past our normal day-to-day activities and envision your special day in this great venue.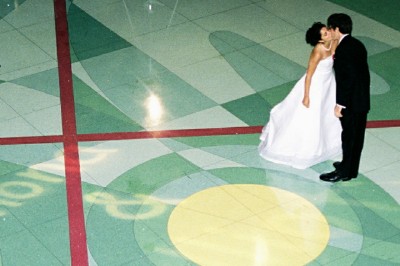 Anything else?
Some bonuses to the Science Center: You may choose your own caterer or use our preferred caterers. We have a great flow to the building, allowing your guests to experience it in stages. We have three great theaters where you can run your personal slide show or video for your guests' enjoyment. We can open our planetarium during your event for casual viewing of the night sky with our projectionist pointing out constellations and showing your guests beautiful nebulae and solar systems. We have a central, built-in dance floor with plenty of space for a band or DJ AND all of your guests!
Readers: What is the most unique wedding venue you have experienced?