When I first started LoveintheD, a friend said I absolutely must talk with Ana and Joel about their socially conscious wedding! After interviewing them, it was absolutely clear why! Ana and Joel had three themes for their July 4, 2009 wedding: community, sustainability, and health.
Sean and I may have had our first date on the same day that Ana and Joel met! Ana and Joel were both at the Detroit Festival of the Arts. Ana had just come back to the Detroit area, and hadn't seen many bike commuters. She saw Joel on his bike and knew that he was a fellow bike commuter! He noticed her too. They began talking and found a million things in common.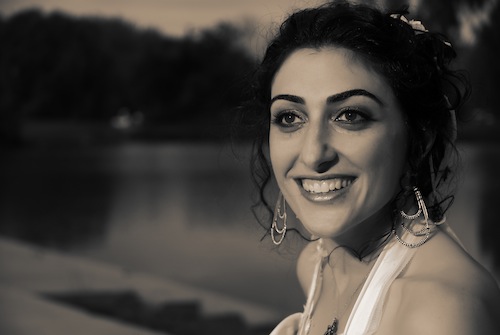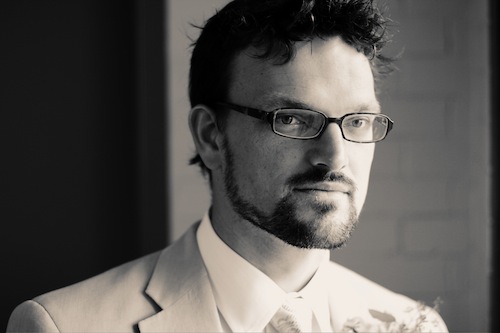 Tell me about your love for Detroit.
Joel: We are passionate about spending our money in Detroit. A wedding is a major capital investment, so we made a commitment that we wanted to get married in Detroit and use Detroit vendors as much as we could. I work in sustainability and am excited about Detroit being a hotbed for a more sustainable, greener society.
Ana: My dad had a big presence in Detroit as an advertising photographer who was really involved in his community. My father was known by many people in the city and had a very deep love and commitment to the city. After coming back from the west coast, I knew this is the place where I want to spend the rest of my life.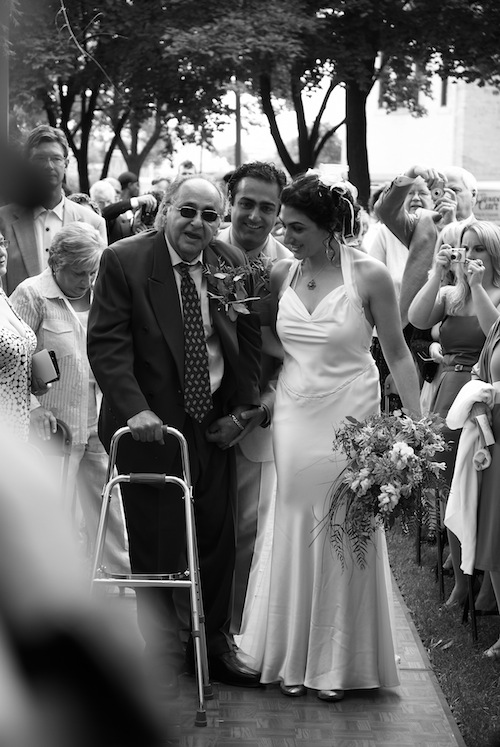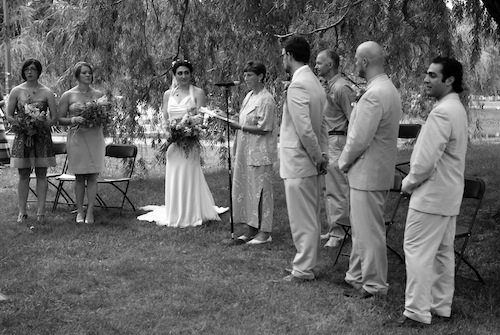 The details:
Venue: Belle Isle
Photographer: Lance Havelka
Flowers: Mother's friend (bamboo stalks)
DJ: Brian Gillespie
Videography: Rand Shackleton
Officiants: Richard Andres and Deb Lentz
Food: Prepared by Canape Cart 
Chairs and tables: C&N Rentals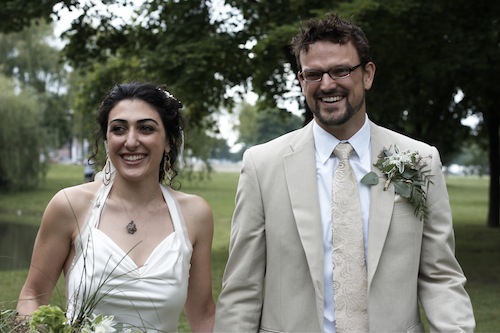 How did you incorporate Detroit into your wedding?
We chose Belle Isle because it is the nature area of the city. We go to Belle Isle to swim in the summer, to cross-country ski in the winter, to bike, and to participate in the Motor City Triathlon. Our out of town guests stayed at the Double Tree Hotel. We created tour maps, which included cool places like Lafayette Coney Island, the Heidelberg Project, Mexicantown, iconic downtown buildings, and community gardens. We gave out Detroit goodie bags. We wanted to make sure people left with a good impression of the city.
Tell us about the bike ride!
We go on a 1000-mile bike tour every summer. You read that right. After the ceremony, we held a bike processional! We rode a tandem and about fifty of our guests followed us around the fountain on Belle Isle!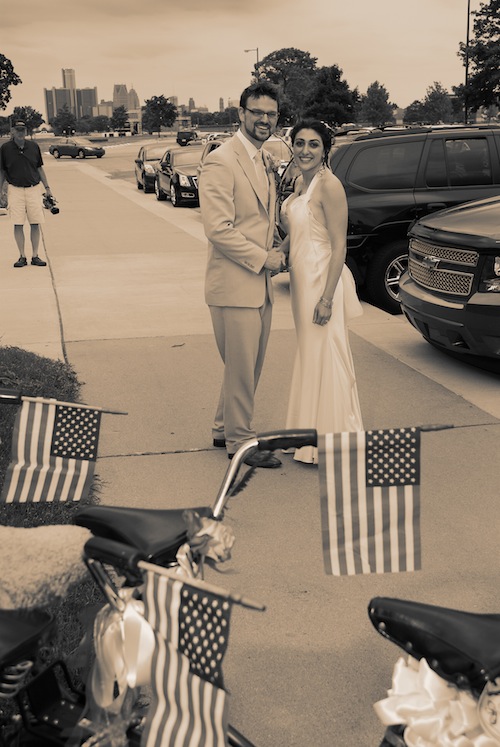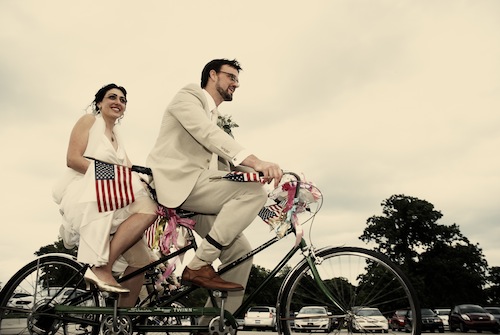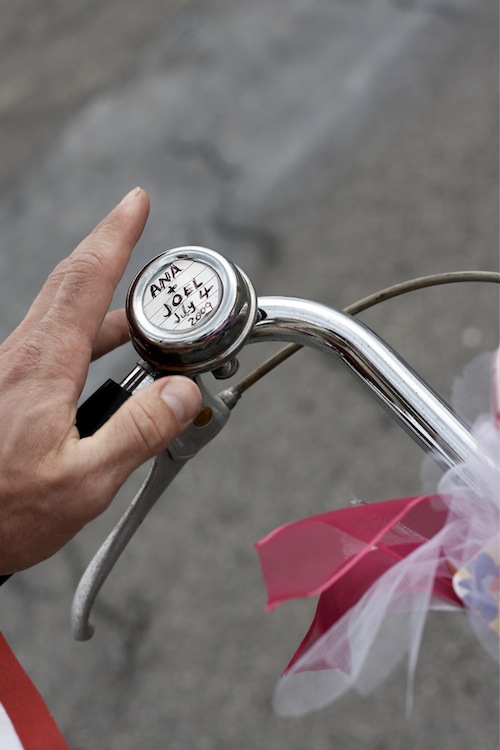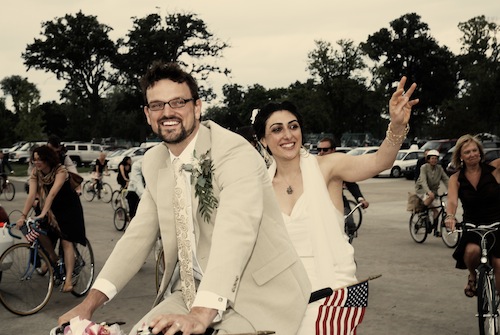 Sustainability is a big part of your lives. How did that translate into your wedding meal?
All our food at the wedding was grown within 100 miles of Detroit. Most of the food was grown much closer. The meat was purchased from an Eastern Market farmer. Brother Nature provided the greens. The Canapé Cart was excited about preparing our meal using local food! Instead of a wedding cake, our baker friends brought fruit pies.
What was your favorite moment of the wedding?
Joel: Our vows were special — we wrote them ourselves. We asked the community to support us.
Ana: My dad had a stroke and was paralyzed on one side. Yet he actually walked me down the aisle. That took everyone's breath away. The moment when he got up out of his wheelchair was pretty awesome. The bike processional was also very cool. We did a salsa number for our first dance. That was fun! The food was incredible! Food is a big part of our lives and that was important. I had a lot of favorite moments!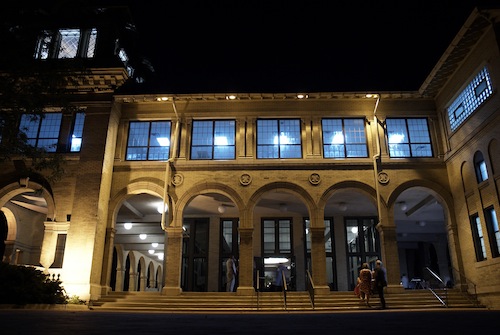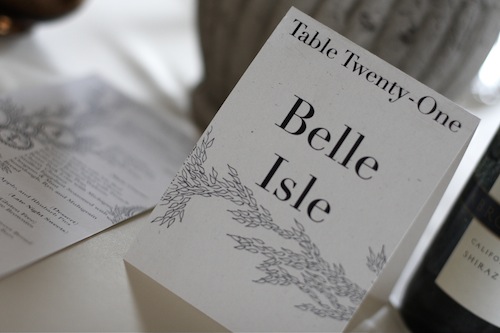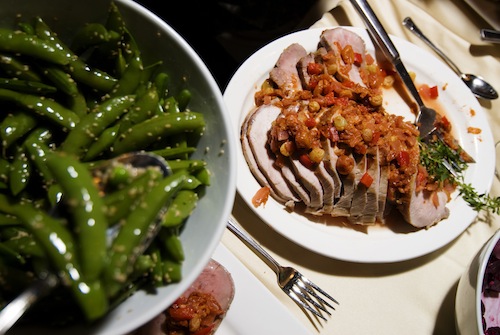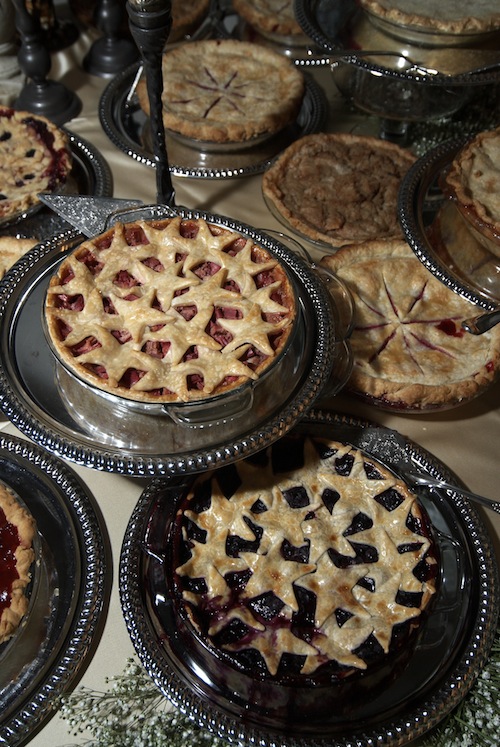 What words of advice do you have for those planning their own Detroit weddings?
Joel: Determine your highest priority and put a lot of energy and effort into making that element really good. Recognize what you can let go of a little bit. You can't control everything! If food quality is important to you, find a venue that doesn't require you to use their kitchen. If you have to use the in-house kitchen, you can't really tell the venue to use a certain caterer.
Ana: You can make an impact on your local economy because you're probably spending so much money! One thing that was really hard was narrowing down the guest list. You don't want to hurt people's feelings. Have you shared a meal with them in the last year? Do you want them in your life in the next ten years? Use those questions to help you decide.