Last week I had the privilege of interviewing Leon of Salt and Cedar, one of Detroit's fine letterpress companies! I knew that Salt and Cedar produced quality letterpress but did not know anything about their event space used to host locally sourced dinner events.
Read on and take a look at some wedding invitations!
About Salt and Cedar
Salt and Cedar recently celebrated its one year anniversary, but Leon has been involved in paper-making, binding, distributing, and letterpress for two decades. He loves that with letterpress printing, "we have control over all aspects of production."
Leon wanted to incubate a business in Eastern Market where he and his partner have lived since arriving to Detroit in 2010. One of his favorite things about living in Eastern Market is finding great local produce on Saturdays. Leon says it "feels wonderful to be part of a community of merchants" that have been here for decades. The print shop was imagined as a space for collaboration and it has grown tremendously over one year.
So what is letterpress all about?
Letterpress presents an opportunity for "deep engagement with hands-on processes as a designer." Letterpress designers are not governed by pre-established fonts because the letterpress uses movable type and each letter is set by hand. Designers control the quality of the paper. The charm of letterpress may come from the "practically sculptural" metal type and tactile nature of letterpress. Sean and I had letterpress invitations for our 2011 wedding (click here to read Sean's blog post about the process of designing the invitations) and can testify to the amazing creations that can result from letterpress!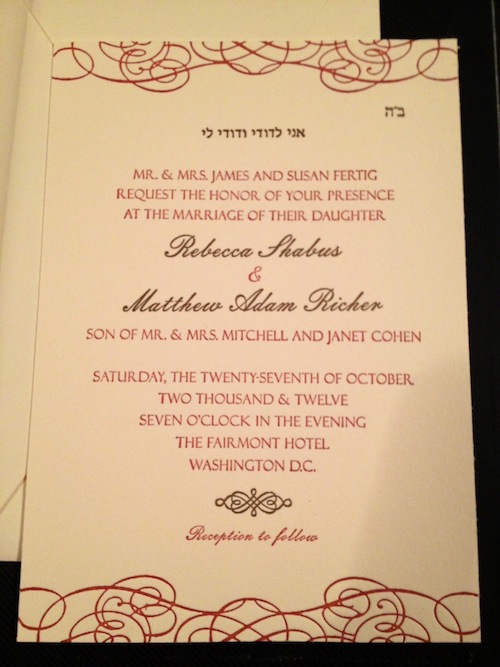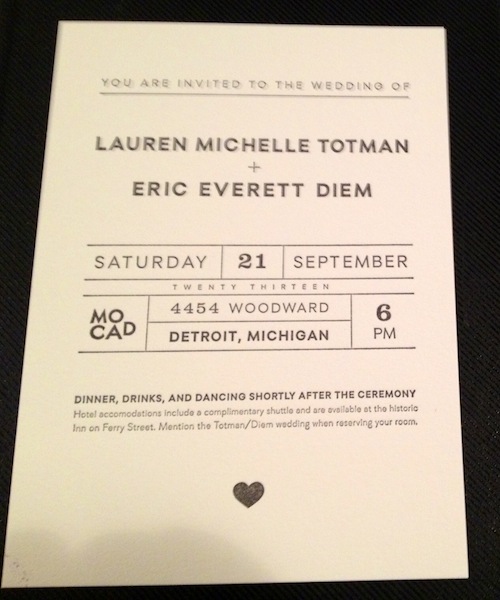 What is the role of the kitchen at Salt and Cedar?
At the back of the letterepress print shop, Salt and Cedar developed a market studio kitchen, which hosts five to six dinners each month. Leon is "interested in the power of the dinner table" in cultivating community and loves to work with the farmers selling at Eastern Market, artists, and papermakers.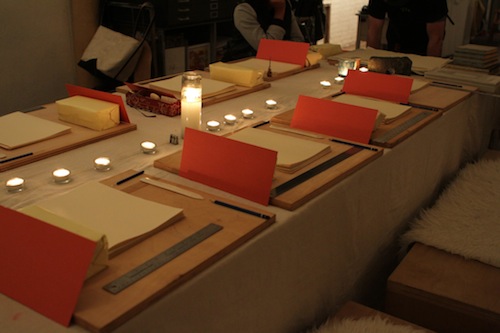 Weddings in Detroit
Let's say you're a bride or groom exploring the idea of letterpress wedding invitations. If you contact Salt and Cedar, you'll enter a collaborative process for design. You can view 30-40 invitation projects and an incredible font selection. You can discuss the quality of paper you would like and personalize, personalize, personalize. As a couple, you have creative control. Leon "can really cultivate an invitation or packet of materials that is distinctive to your tastes, ethics, and aesthetics, similar to a custom built bicycle." After you choose which paper you prefer, you can choose the ink color, perhaps based on the flower arrangements and other details of the wedding Salt and Cedar will actually hand mix your batch of ink in front of you, and allow you to take the metal plates as keepsakes!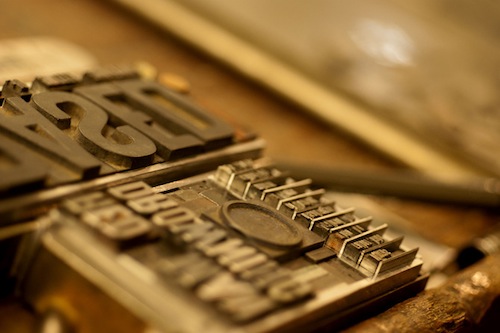 Photo credit: Miranda Clark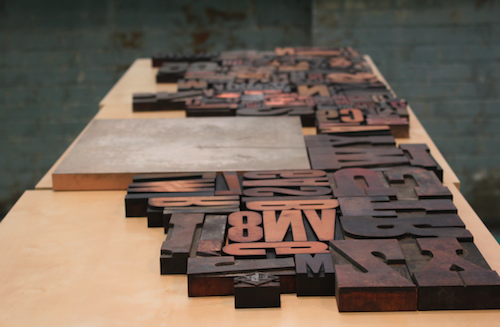 Photo credit: Renee Sandoval
Salt and Cedar is teaming up with Trinosophes to host a Detroit wedding in October at the Trinosophes space on Gratiot. From custom cocktail drinks and thirty roasted organic chickens to letterpress wedding invitations, this wedding is chock-full of local Detroit goodness.
Leon has noticed that couples wish to be more and more involved and hands-on in all aspects of the wedding invitations and printed materials. Engaged couples want to be involved in the process!
Detroit's "image repertoire"
Leon notes that Detroit has an incredibly powerful and provocative image repertoire — from the landscape to antique maps of the city to old photographs of Detroit homes, Salt and Cedar has spent some time looking at Detroit images. One Salt and Cedar customer wanted to use a photo of their parents dancing when they were teenagers, so Salt and Cedar created a black and white line drawing based on that photo. Whatever image emerges as a priority, Salt and Cedar will find a way to translate via metal onto your invitations.
Readers: Are you a fan of letterpress printing? What has your experience been with designing wedding invitations?