So I missed Jazzin' on Jefferson this summer because I was out of town, but Jazzin' on Jefferson (a must-visit summer festival in Detroit) is where my friend Tierney met April Anderson of Good Cakes and Bakes! About a month later, Sean and I met April at the East English Village 100th Anniversary Party.
Of course we ordered a red velvet cupcake (one of my faves), and it was delicious!! And get this … Good Cakes and Bakes uses local organic ingredients whenever possible and is based right here in Detroit. I knew there must be a spot on LoveintheD for this local socially conscious wedding vendor! Last week I had the joy of interviewing April. Read on for the details!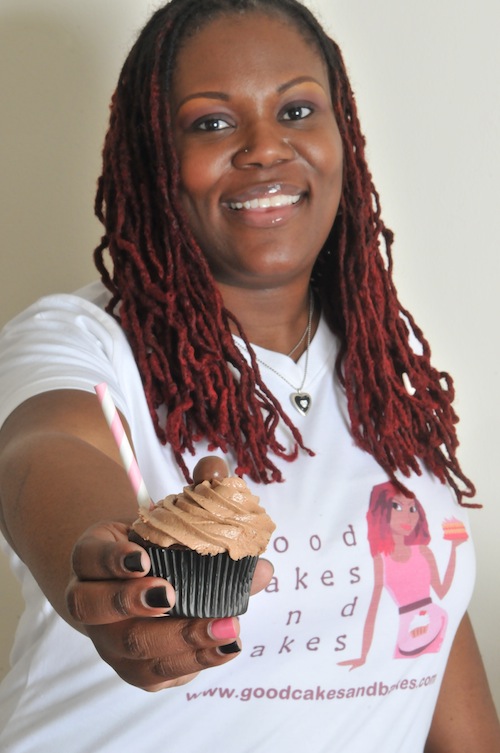 April Anderson has been baking since she was nine or ten years old. She used to bake for everybody in the family! When she was ten years old, she hadn't purchased a Mother's Day gift for her mother, so instead she made her a cake and got a great response from her family members. April found her passion in baking and says "people can never be sad when you have baked goods!"
In 2008, she decided to take a cake decorating class and later made a birthday cake for her niece. After that, people began to offer to pay her for her cakes. A year later, she decided to go to school for pastry art. She found the perfect program at Macomb Community College, which is the only college in Michigan which offers a specific pastry art degree. Skip ahead to June 2013. April left her day job and has now been running Good Cakes and Bakes full time for a few months!
What does Good Cakes and Bakes have to offer a Detroit wedding?
Good Cakes and Bakes has cupcakes, cookies, sheet cakes, cake pops, brownies, pies, French pastries like danishes and croissants… you name it. As April says, she can "do anything that requires sugar and butter!"
April has baked cakes and cake pops for several Detroit weddings. She also has a September wedding for which she will bake a cake along with more than 100 "cakes in a jar." I had no idea what a cake in a jar was (here's a link to a cakes in jars Pinterest page but be forewarned that mouth-watering is likely to ensue), so April explained that she bakes a cake in a wide-mouthed jar and then puts icing on the cake along with decorations such as wedding monograms.
Say you're a bride or groom interested in Good Cakes and Bakes for your wedding. Two months or more before the wedding, you would set up a tasting appointment for which April would make samples with three different fillings and icings. Together you will develop an image for the cake or you can give April a sense of what you want and she will make it happen!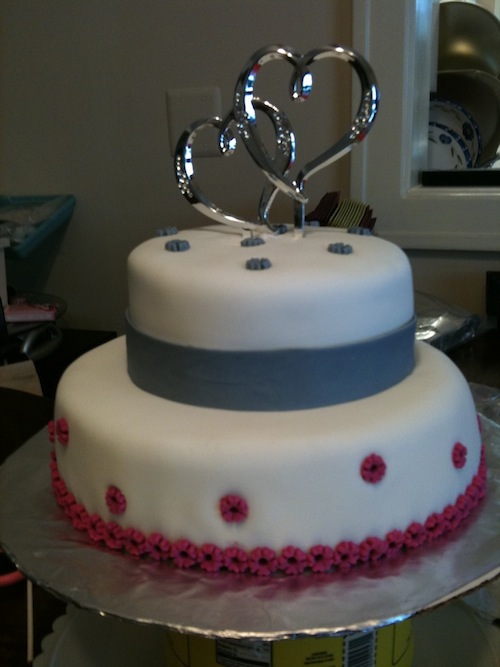 How is Good Cakes and Bakes socially conscious?
Whatever April can purchase locally, she does. The eggs used in Good Cakes and Bakes cakes are from Beaver Farm in Southwest Detroit. She purchases fruits and vegetables at Eastern Market. For red velvet cakes and cupcakes, she does not use red dye. Instead, she uses beet juice! April's interest in organic cakes began because of her wife, who "eats organic everything!" April realized she could really taste the difference. She began using unbleached organic flour. She does not use ingredients that include hormones or steroids.
Detroit themed wedding cake, anyone?
If April could do any Detroit-themed cake, she would love to make a Motown record cake. If she was into three dimensional cakes (she isn't so much), she would like to say she would make a car cake.
I asked April if she has observed any trends in the wedding cake business in Detroit. Cupcakes and dessert tables are where it's at, people!
Big news!
Guess what? Good Cakes and Bakes is going to have a storefront on Livernois Avenue, the Avenue of Fashion in Detroit! Good Cakes and Bakes is among the winners of the Revolve Detroit "Art + Retail on the Ave" competition, and will team up with Local Social Ice Cream on a storefront opening on September 20! April found out about the competition when she had her pop up earlier this summer and local residents encouraged her to apply.
Congratulations, Good Cakes and Bakes!