Are you a bride (or groom) on a budget? Or a past bride (or groom) with many unused wedding items? Here's a potential solution!
I was so excited to meet for breakfast last weekend with Lotoya Vongrechin, a co-founder of The Wed Exchange! The Wed Exchange is taking place on Saturday, April 13 in the Detroit area and the following day in Missouri. The Wed Exchange is "where her something old is a bride's something new." The event is an opportunity for past brides and brides-to-be to buy, sell, and exchange wedding items such as gowns, decor, bridesmaid dresses, and more.
I agree with Lotoya when she says: "We live in an environment where there are lots of DIY brides and brides on different budgets. There was nothing in Metro Detroit where brides on a budget could buy used wedding items!" She came up with The Wed Exchange in order to fill this void and is excited to launch the first events next weekend!
There are certainly many do-it-yourself brides (and grooms) out there who end up with many creative items that are used for a few hours on their wedding day but don't have much use beyond that. If you have wedding items taking up space in your house or just want to do something with unused wedding items, consider selling some of your items at The Wed Exchange. Sign up by April 10 to sell your items. Lotoya suggests that you think about which items you are emotionally attached to, and which items you are not so attached to. Are you going to have a vow renewal? What will you want to wear your gown again? "Or do you want to make another bride's day very special? That could be her something borrowed or old."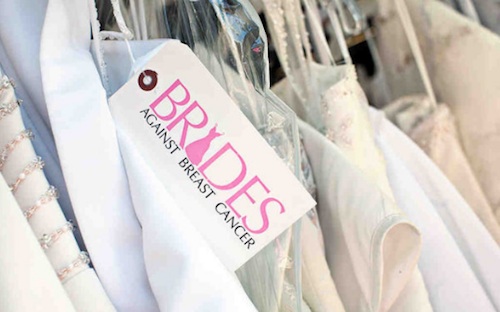 If you are a creative open-minded bride or groom, or simply trying to save some money (seriously, who isn't??) on your wedding, the Wed Exchange will provide an opportunity for you to buy lightly used items at a lower price. Part of each ticket sale will go toward Brides Against Breast Cancer, and if you want the event planners to sell your items, your unsold items can be donated to charity. Ticket sales run until April 12.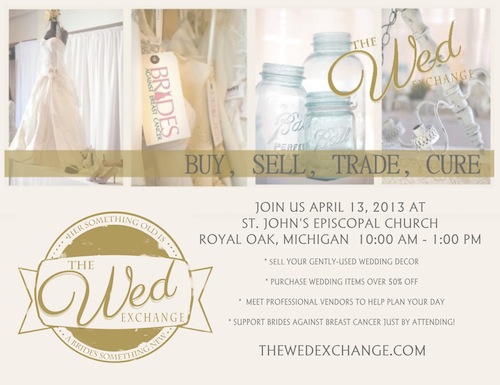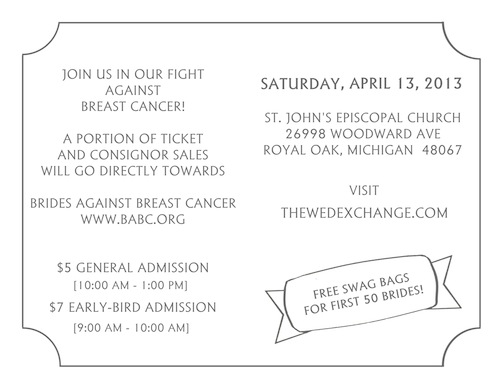 Lotoya is a wedding and event planner whose roots are actually in the automotive engineering industry! She started out by planning detailed trips for some of the Big Three companies and also helped plan several friends' weddings and bridal showers. "Planning was really really always my first love. When you love something deeply in your core, you always get pulled back to it." She started her event planning company in 2008.
"Most girls and women dream about their wedding. I have, definitely… and I just love weddings. I love the art of love. I think you should be able to create something you love, whether it's large, small, or however you want to do it." She encourages brides to go with their gut, even as they browse the multitude of wedding magazines and blogs. If you are getting overwhelmed, "always look within yourself and what you envision your wedding to be. You want to bring in your own personal style, not what everybody else is doing."
She loves using Pinterest as a tool for creating a full wedding concept. When she sits down with a client, she gets to know the bride, groom, or parent, and develops a board of wedding images for feedback. After that discussion, she then recreates a similar vision from those images! Lotoya's favorite moments of wedding planning are (1) the first look – when the couple first sees each other on their wedding day and (2) when the couple sees the transformed venue for the first time. "Both of those moments literally bring tears to my eyes!"
What used wedding items have you been thinking about buying or selling?