Are you a jewelry lover? If so, this post is for you!
Mavis Farr-Smentkowski is a Detroit resident whose jewelry and metalsmithing studio is located in Southwest Detroit. If you are a bride or groom looking for some locally-made, environmentally friendly jewelry for your wedding day or for bridesmaid/groomsmen gifts, check out her company, Sparklegarden, on Etsy! One of my favorite things I learned about Sparklegarden is that Mavis can create custom cufflinks or guitar picks for you!
Check out these adorable bridal earrings….
How did you get into metalsmithing and jewelry?
After a lifelong fascination with both tools and jewelry, I officially got into metalsmithing in 2006. I'm trained as a painter, but my attention span shifted when my daughter was born. I found it more fulfilling to express myself with a medium I could literally and figuratively pick up and put down many times while completing. My goal is to provide high quality affordable future heirlooms with a streak of sass and a lot of heart. The majority of my work is custom, with the customer choosing the stones, and the personalized stamping. What I love about making jewelry and gifts for people is that I get to give folks a means to express themselves in a lasting way.
I understand you use recycled silver and other metals. Can you tell me more about that process? Where do you find your metal sources and how did you decide to go this route?
Up to 10 percent of the world's energy consumption comes from the mining of precious metal, with most mining currently happening in open pit mines. Pit mines are often created by blasting beautiful natural areas and using chemicals like cyanide to extract the metals. Without getting too political, I'd like to point out that there is an alternative which is using, reusing, and reinventing our current supply.
When creating my jewelry, I upcycle vintage tea tins and other elements to give them a new life. I purchase my sterling, fine silver, gold and copper from a certified "green" wholesaler. When I can, I locally source copper and bronze to use again.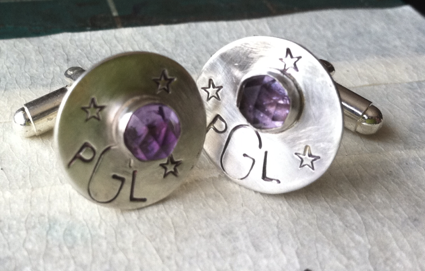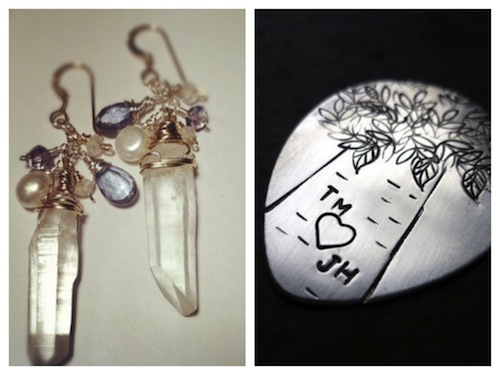 The guitar pick above makes me wish I hadn't passed up that $20 guitar at the Lafayette Park neighborhood yard sale a few years ago…
How did you come to live in Detroit? Why Detroit for your studio space?
I grew up near Detroit, and my family has deep roots here. After a long stint (20 years) in the Lake Superior bioregion, my husband and I decided on an urban pioneering adventure. We packed up our daughter and our hound dog last summer and headed back to the Motor City. Detroit is the perfect place for creative people who don't mind rolling up their sleeves and making things happen.
How would you describe the style of the bride or groom who might shop at Sparklegarden for customizable jewelry?
My typical wedding client is someone who wants a unique personalized gift at a great value. A lot of my customers choose my work because of my quick turnaround time, and use of recycled precious metals. The styles range anywhere from classic pearls and gold to boho eco chic to punk rock Audrey Hepburn.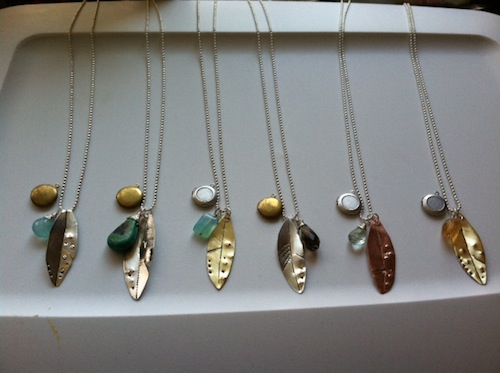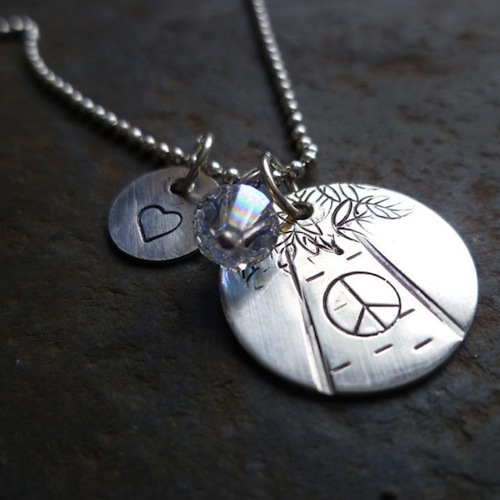 Is there any advice you would like to share with newly engaged brides or grooms in Detroit on finding the right accessories and wedding party gifts?
My best advice is to take your time. Breathe deep. And shop local.