Christyn and Ismael planned their Detroit wedding with almost 200 guests in just five weeks! How in the world did they do that? Read on to find out about their June 2012 wedding at two beautiful Catholic churches in the city. Enjoy the images by Tessa Bird Photography!
Christyn said that getting married in Detroit was a no-brainer: "We couldn't imagine getting married anywhere else.  We met here, we live here, we go to church here, we work here, we play here. This is home. Ismael and I met next door to St. Anne's over 13 years ago.   It was as if we were coming full circle."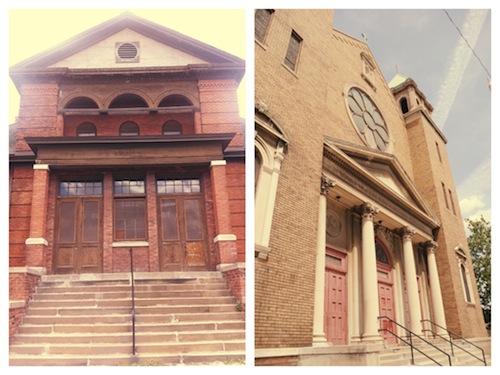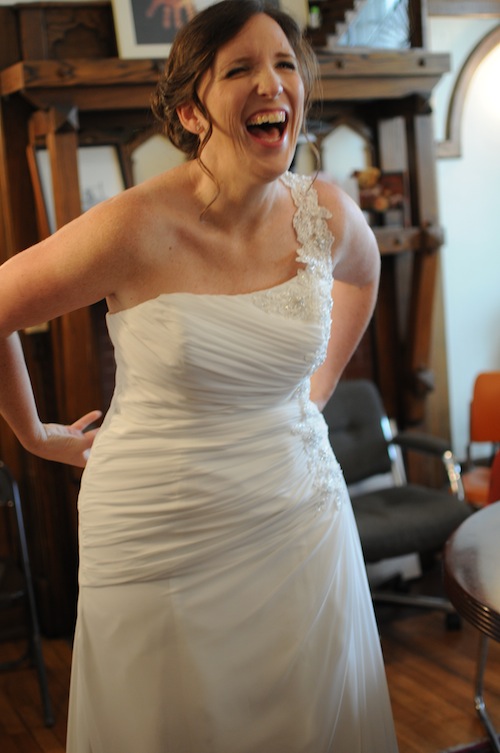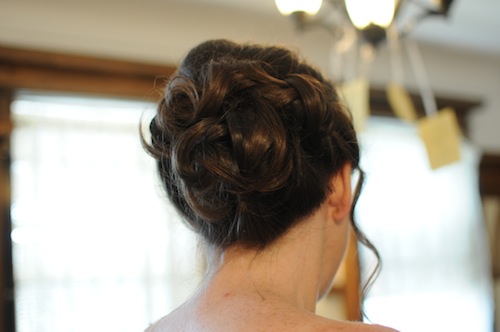 Venues: Ceremony at St. Leo's Catholic Church  / Reception at St. Anne's Catholic Church Hall
Rehearsal Dinner: Polish Village Café
Catering: Canapé Cart   http://www.canapecart.com/
Cake: Supreme Bakery, 5401 Proctor St, Detroit, MI 48210
Flowers: Eastern Market (centerpieces) and friend of family (bouquet/corsage)
Favors:  Made by Ismael
Music: Ceremony – Coleman Ward (Detroit School of Performing Arts) & Suzanne Camino / DJ – Dexter Dubois
Photographer: Tessa Bird Photography
Makeup: Rita Leigl of Green Room Spa
Hair: Ezelli Salon http://ezellisalon.mobi/
Event Planner: Melinda Anderson of Swoon Rental and MeMe Designs
Invitations: Artist Loralei Byatt
Linens: Lyndsey's Linen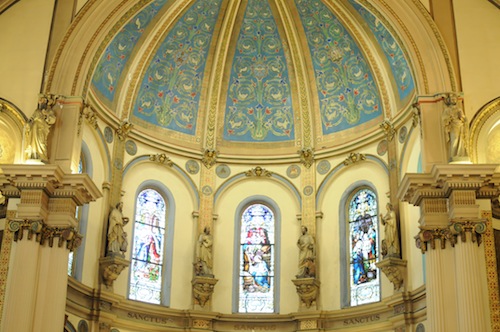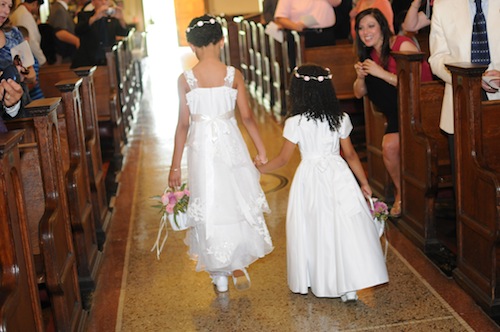 How did you incorporate Detroit into your wedding?
We probably were a bit more limited or should we say, flexible, since we planned the wedding in 5 weeks! Not a shotgun wedding…just making sure our VIPs were in the country to attend. Looking back, that seems unbelievable, but it turned out perfectly….at least in our eyes.  We had just under 200 people and were so glad to have them share in our Detroit wedding.
With the short notice we didn't get to prepare for our out of town guests as much as we would have liked but we had a few opportunities to show off the city. We were able to secure rooms at a hotel on the riverwalk, which gave guests a great place to walk and view the city. We had our rehearsal dinner at Polish Village Café, I hear the wedding after party was at Green Dot Stables just a couple blocks from the hall… although we didn't make it! And our Green Acres home was open the day after for our out of town guests.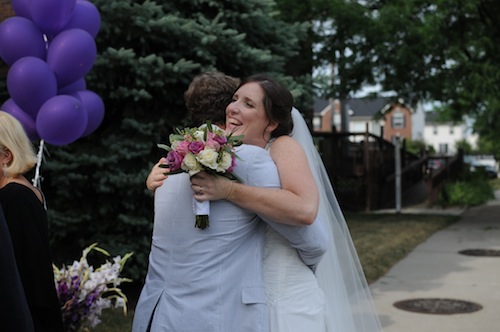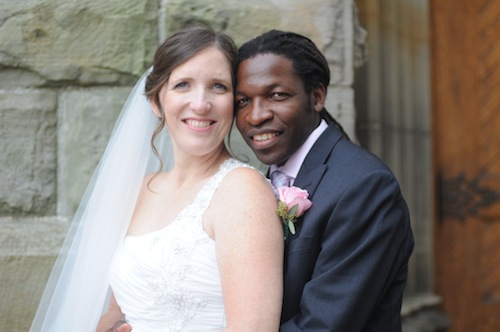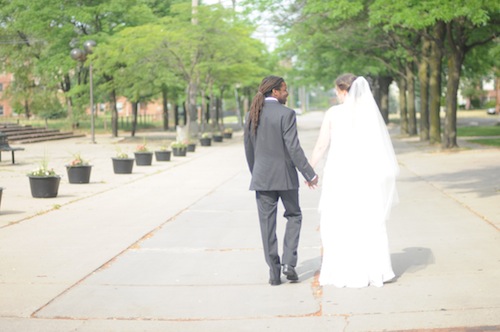 What socially or environmentally conscious choices did you make during the wedding planning process?
The hall we used was completely bare bones, so we found a caterer that could really work with us to brainstorm. This gave us the benefit of taking home food.  I'm not so sure the take out containers were eco-friendly, but the food did not go to waste! We had out of town guests over to our house the day after, so that was helpful.
Ismael created favors from recycled pop and beer caps.  He punched out sayings with the date imposed over the invitation background, making a magnet that was placed at each place setting.
We've always admired our friend and artist Loralei Byatt's photography. She was generous to work with us to design our invitation with an image of a bright purple flower, Spiderwort (!), from her garden.
What was your favorite moment of the wedding?
Standing on the altar with Ismael by my side and all our friends and family there with us. We could not stop smiling.
The music. We both love music and dancing, so everything from Brenda Fassie as we entered, Sade as our first dance, the father-daughter waltz, or the last song – Fedde Le Grand's Put Your Hands Up For Detroit…..I love this city!!  They all made the day memorable!
Hearing our guests say: "It was like an old fashioned wedding!" "…The best wedding food we've ever had!" and "You both never stopped smiling!" Perfect!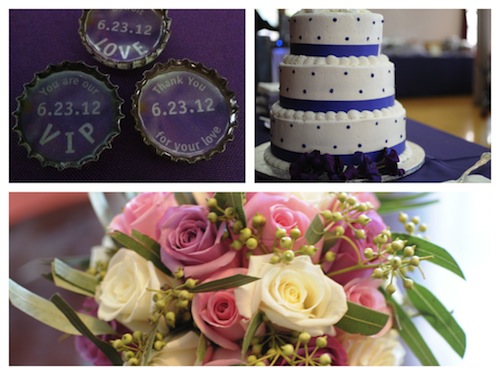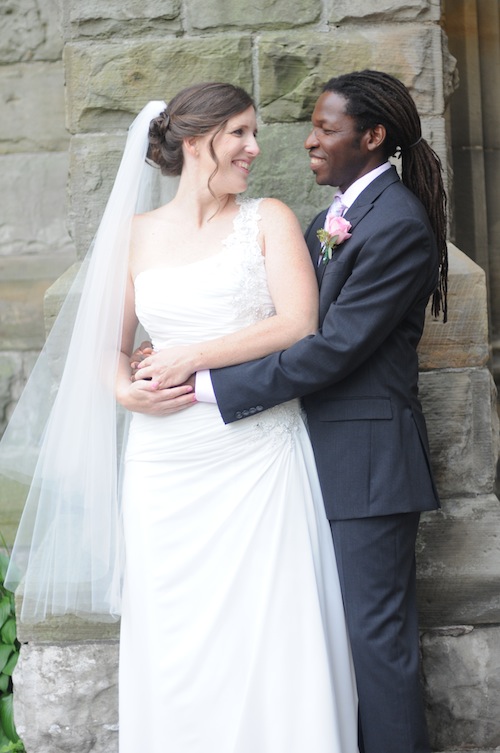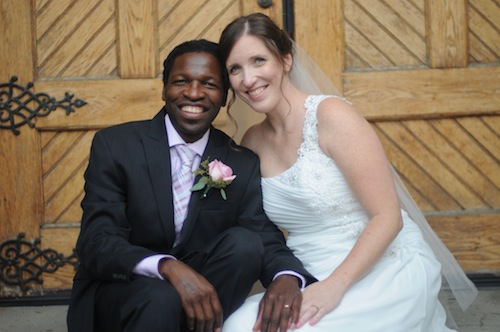 What words of advice do you have for those planning their own Detroit weddings?
Look for nontraditional spaces: There is a wide range of options for weddings in Detroit – something to suit every budget. While there are plenty of beautiful hotels and conference halls, there are also many museums, church halls, public buildings, parks, galleries, and random spaces that could host your wedding.
Don't break the bank: There are options. Short notice gives you great negotiating ability.  We bought all our own liquor and drinks. We skipped a large wedding party and had opted for flowers bought the morning of the wedding at Eastern Market.
Get off of Pinterest. Kidding! A little. It stressed me out.