Welcome to LoveintheD! I am thrilled to launch a socially conscious Detroit wedding blog!
Why did I start LoveintheD?
Thanks for asking! I married my husband Sean on October 14, 2011 at the First Unitarian Universalist Church. We celebrated our reception at the gorgeous Colony Club. I enjoyed planning and, of course, had lots of fun on our wedding day! However, mid-way through the planning process, I realized that I wasn't having much luck on mainstream wedding planning websites finding many vendors based in the city or vendors owned by women of color. I also wished that I had started thinking earlier in the process about making the wedding a socially responsible one.
I looooooved looking at the plethora of wedding blogs already existing in the blogosphere, but became frustrated that hardly any of the wedding blog posts I saw (of course there are exceptions – some blogs do include great Michigan weddings!) were from Michigan, let alone Detroit.
I love Michigan. I love Detroit. I grew up in a suburb of Detroit and have lived in the city for a little over seven years now. Detroit is where I met my husband, have continued to grow as a woman and as an advocate and organizer, and have learned many things about struggle, hope, and love. Sean and I plan to raise our family in Detroit. After we got engaged, there was no question where our wedding should be held. Of course it would be in Detroit!
In the months after the wedding, I had some thoughts about starting a Detroit wedding blog, because I figured: "Well, if no one else has done it yet, I might as well start one!" A year and some change later… here we are!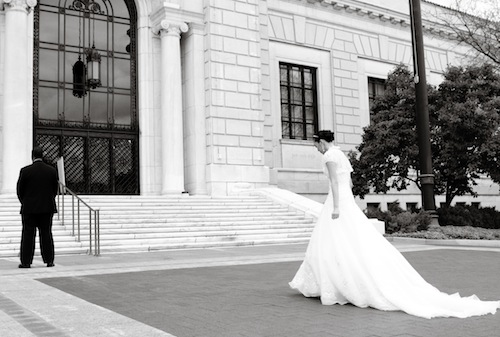 Photo credit: Orris Photography
What do I mean by "socially conscious" and why is that important?
Social conscience. An attitude of sensitivity toward and sense of responsibility regarding injustice and problems in society. [Source: dictionary.com]
Basically, a socially conscious bride or groom might consider the workers that prepare or serve the reception meal, the effect of various aspects of a wedding on the environment, same-sex couples who may not be able to enjoy the benefits of legal marriage, or small local businesses in the city. Of course, it is probably impossible to be conscious of all these things and pull off a perfect wedding that is 100 percent socially responsible. But one could try, right? Here on the LoveintheD blog, I plan to blog about weddings that include at least a few socially conscious elements.
I decided that if I were to start a Detroit wedding blog, it would have to have some element of social consciousness in order to stay true to my passions.
What will I blog about?
LoveintheD posts will include: real Detroit weddings, local vendors, ways to incorporate Detroit into your wedding, style and music (occasional posts from my husband), Detroit happenings and social justice topics from the frame of "lovin'the D." This is all new for me, so we'll see how it goes! I would really appreciate your comments, feedback, and ideas.
Thanks for stopping by! Check out LoveintheD this Thursday for the first Real Weddings post.
What kind of stories, tips, and resources would you most like to see on the LoveintheD blog?
//
var _gaq = _gaq || []; _gaq.push(['_setAccount', 'UA-37463828-1']); _gaq.push(['_trackPageview']);
(function() { var ga = document.createElement('script'); ga.type = 'text/javascript'; ga.async = true; ga.src = ('https:' == document.location.protocol ? 'https://ssl' : 'http://www') + '.google-analytics.com/ga.js'; var s = document.getElementsByTagName('script')[0]; s.parentNode.insertBefore(ga, s); })();