What's the biggest portion of your wedding budget?
Wedding planning sites say that you should expect to spend about half your wedding budget on the reception venue and food. The cocktail hour, meals and open bar amounted to 42 percent of my wedding expenses, not including the cake and bubble tea.
Given the massive amount of money you are going to spend on food, let's talk a little about the people who prepare and serve those delicious meals to your wedding guests, shall we?
Many of you might have worked in restaurants before (I have not), so you are probably already more familiar than I am with some of the problems that plague the restaurant industry. Do you remember if you were paid for sick days? Did (or do) you have an opportunity to advance? Were (or are) you paid adequately?
One way to eat and feed your wedding guests guilt-free is to contract with a gold or silver prize restaurant to cater your wedding! Alternatively, you could host your rehearsal dinner at one of these worker-friendly restaurants!
The Restaurant Opportunities Center (ROC) recently released its 2013 national diners' guide. ROC gave gold and silver stars to restaurants with strong ratings for paying tipped workers $5 or more per hour, for paying non-tipped workers $9 or more per hour, for providing paid sick days, and for promoting employees internally.
Check out the ROC 2013 national diners' guide!
ROC rated the following five Detroit restaurants as "high road" gold or silver star restaurants for treating their workers with respect!

Avalon International (gold)
Baked goods, sandwiches, coffee, and more!
I went to Avalon's new bakehouse grand "bread-breaking" opening on Friday. Congratulations to Ann, Jackie & the whole team! Check out MLive's photos of the huge space. Who knew mixing bowls could be so ginormous?
COLORS Detroit (gold)
Contact Dan Jones (dan@rocmichigan.org) for catering menu (breakfast, lunch, dinner, happy hour, dessert options available)! Minimum of 25 people for catering/special event orders.
Can host rehearsal dinners, up to 60 people.
Le Petit Zinc (gold)
Catering services available! Can host rehearsal dinners for up to 30 people.
Russell Street Deli (gold)
Specializes in vegetarian/vegan meals and has catered weddings for up to 240 people! No minimum or maximum for catering orders.
Can host informal rehearsal dinners up to 40 people.
Seva Restaurant (silver)
Can host wedding buffet receptions in the restaurant for up to 80 people or cater off-site for up to 500 people!

Okay, okay. So I know that list is short. There are certainly restaurants that simply weren't evaluated and rated by ROC.
…And you are probably wondering how you can apply ROC's principles as you prowl the city for the best venue and best caterer that meets your budget. You could ask potential caterers: "How do you support your workers? Do you give your workers paid sick days?"
If you don't feel prepared to ask questions like those, simply clip out the tip card below and hand it to your catering representative!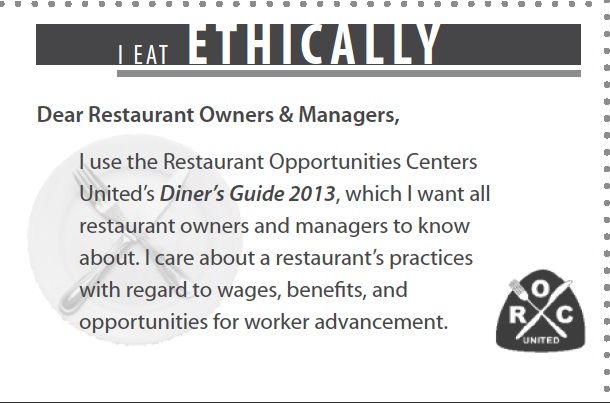 Stay tuned for future LoveintheD posts highlighting caterers in Detroit that you might want to consider. Feel free to leave a comment with a suggested "high road" restaurant employer!
Do you have a personal story about the restaurant industry to share with LoveintheD?